This week in photographs: Here is my update of my 366-day photography project. Winter is slowly making way for spring. Things are stirring. Green, lovely, baby things. They are tiny and delicate but strong at the same time. They have grown through snow, ice, and cold temperatures. The crocuses and the snowdrops are already blooming. Life is coming back to my world, and documenting it is a great joy.
Meanwhile… back inside… on Saturday, March 5th, I was getting ready to cut up some strawberries for our fruit salad when I noticed this enormous strawberry. Really huge. Mega sized. Bigger than the snow human.
That's the mega strawberry, next to a strawberry that normally would be considered large.
On Sunday, my family gathered at my sister Vivian's house to celebrate my father's birthday. We share memories of him and we drink a toast to him with sparkling grape juice. No wine because it would interact badly with my mom's medication. It's nice to visit Vivian's house. She has a cat named Angel.
Angel will soon celebrate her 17th birthday. She has been known as an excellent mouser. Every now and then, she presented Vivian with a gift. Unfortunately, Vivian wasn't really thrilled with the gifts.
There was a mouse that was taking taste tests out of Angel's food bowl. My nephew James called the mouse a "smart mouse" because it always managed to get away before Angel discovered a potential prey.
No mousing today. Angel is relaxed and happy in her cat bed. She also enjoys the attention lavished on her by all of the visiting cat lovers.
We started our meal with melon and salad. We then had salmon, asparagus, and brown rice for our main course. Vivian baked this lovely banana bread for dessert…
… and I baked these double chocolate chocolate chip cookies. We enjoyed food and one another's company. Sharing memories of my dad was bittersweet. It was good to talk about him and to toast him but there is a huge empty space in our hearts and our dinner table.
Easter is coming… early this year. Here are the Hershey's Kisses dressed up and ready for Easter.
On Tuesday, I got this view of the Niagara River.
Canada is on the other side of the river. I can see the buildings and the cars. It is close, but far. We can't just go straight to Canada. We have to go through border crossings, as do Canadians. I'm not a fan of borders, border patrol, or all of the rest of that stuff. I believe in open borders because borders are artificial dividing lines designed to keep humans away from humans.
This tree appears to be leaning over the river.
The water is lovely but it has an undertow. As you get closer to Niagara Falls, the water gets faster and more treacherous. In Buckhorn Island State Park, on the northern shore of Grand Island, you can see the foam rising from Niagara Falls on a clear day.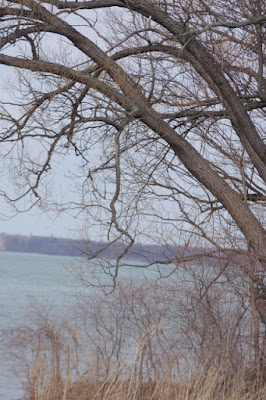 The good thing about naked tree branches is the shape of the branches.
Odd looking object that sort of resembles a little tree house for people the size of Tom Thumb. Or maybe for insects. Moths and other flying critters. Hee hee. It was an odd looking object so I took its picture.
On Tuesday afternoon, I went to drop off some photographs at Gilbert and Gretchen's house. Gretchen was the lady who celebrated her 20th birthday with friends on February 29th. I had posted her picture last week. When I got to Gilbert and Gretchen's house, I noticed these lovely crocuses. They were the first crocuses that I'd seen this season. It must be good luck?
Here are a few snowdrops in Gilbert and Gretchen's yard.
On Wednesday, I went to the fourth Lenten luncheon. St. Timothy Lutheran Church hosted the luncheon. The meal consisted of salad, beef on weck (or roll), chips, and a dessert tray. The desserts were decadent and delicious.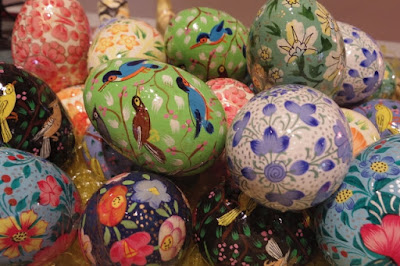 All of the Lenten Luncheons are held at Trinity United Methodist Church. They have a SERVV store, where they sell handmade things from other countries. These are fair trade items. The entire purchase price goes to the artisans who made the products.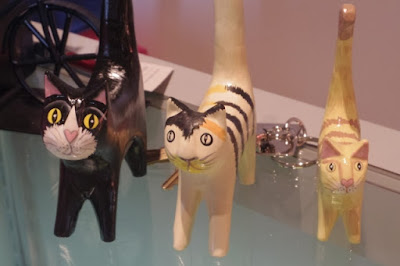 Oh well. You already know that I like cats. I couldn't resist this.
Daffodils at each table reminded us that spring is coming.
Vicar David Sivecz talked about the fear of change. Tomorrow, I will post a more complete report about his reflection.
My garden, coming back to life. It's almost time to do a little cleanup.
I went to my friend Ellen's house on Thursday afternoon. We had a fun evening activity planned: watching the dress rehearsal of "Mary Poppins," presented by the Saint Joseph Collegiate Institute. Ellen's son Thomas was playing two roles: a butler and a giant rag doll. He was hilarious. He actually became that goofy butler and that rag doll, complete with a huge red wig that resembled a mop. The production was fantastic. Everyone turned in a great performance. It was most definitely a very fun evening.
This is Thomas' older brother, Joe, and his friend, Alicia. They are two members of a band that performs acoustic music. After "Mary Poppins" was over, we had to wait for a ride, so they got in some good practice for upcoming performances. Alicia is the lead singer, and Joe sings and plays the guitar.
This is the musician pose.
This is Patrick. He is a musician and he has a recording studio in his home. He wants to record Joe's band. This is a record that he and his group made back when we listened to vinyl records.
On Friday, I went to Huth Road Elementary School to take pictures of a storyteller, who came to share the story of Mary Jemison. The storyteller's name is Getchen Murray Sepik. She acted out Mary Jemison's story and completely drew in the fourth graders and their teachers.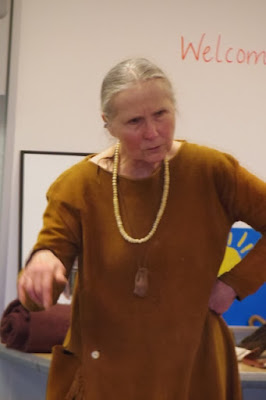 Mary Jemison was born of Irish parents in 1743 on a ship bound for Philadelphia. Eventually, her family became farmers. But, when Mary was a teenager, she was kidnapped by Shawnee people. It was during the French and Indian Wars. Mary eventually was adopted by the Senecas, with whom she spent the rest of her life. She was taught Seneca customs and the language. She was married twice and she had many children. When offered her freedom, she declined, saying that her home was with the Senecas. She passed away in 1833 at the age of 90.
This is Kailey. She was chosen to model a typical outfit that a Seneca girl might have worn in Mary Jemison's time.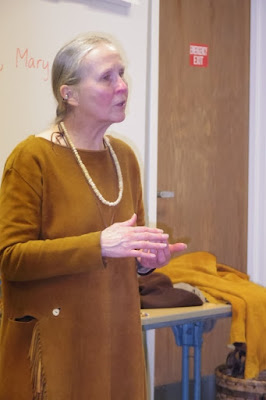 Gretchen is a story teller, actress, dancer, illustrator, and writer. She has a series of programs that she presents for schools, historical societies, libraries, festivals, etc. Most of them are historical in theme. She truly puts STORY into hiSTORY.
This is a display that Gretchen put together for the fourth graders.
This is a creative display in the school.
The display comes with these pages. It is to advertise and encourage students to participate in "PARP." That used to stand for "Parents as Reading Partners." It has been changed to "Pick a Reading Partner."
On Saturday, I went to the Zumbathon at St. Martin in the Fields church. It was an hour and a half long Zumba class being taught by Bridgett Braunscheidel. It is the second annual Zumbathon. All money raised by this event goes to the Family Justice Center, which provides help and support for victims of domestic violence. The event raised more than $600, which included donations from people who did not participate. We could also purchase smoothies for three dollars. The event was organized by Patrick Braunscheidel, the former intern deacon at St. Martin's church.
I'm now participating in an online art class, titled "Sketchbook Fury The Art Ninja's Guidebook (Handbook?). The first task was to personalize my sketchbook. It is now "my" sketchbook, rather than an impersonal generic sketchbook. Above you can see the front cover.
This painted jar is small enough to hold a few pencils.
This is Matthew. He has cool, glowing glasses. When the Buffalo Bills were playing the New York Giants, he put a dollar bill into the Thanksgiving box at church and said that he was thankful for "the Giants." Hordes of people began booing this young boy. He laughed as they were booing him. Apparently, it didn't bother him. He expressed appreciation for the Giants several time after the booing event.
As I walked home after church, I saw this view. It is Woods Creek. I was fascinated with how the trees and the house were reflected in the water.
Another view of the same spot.
At Riverside-Salem Environmental Chapel, this is what I saw in the garden.

Next week: More art, plants, the last Lenten luncheon, and more! Thank you for visiting this blog and please come again.