Sunday, February 7th, in Cleveland, at North Presbyterian Church.
The service was full of music and hope. Pastor Charlie Hurst shared the story of Ida B. Wells (1862-1931). Ida Wells was a journalist, sociologist, suffragist, and an early leader in the Civil Rights movement. She had many accomplishments. One of them was to help bring the barbaric practice of lynching to an end. Thousands of people, mostly African-American men, were murdered in this horrific way by racist mobs. "Today, that would be called terrorism," Charlie said.
Unfortunately, racism and violence have not been brought to an end in the United States. We still have a long way to go to ensure that all citizens, regardless of ethnicity, are treated as the Rev. Dr. Martin Luther King, Jr., would have us treated, "according to the content of our characters," not based on the color of our skin. In other words, we are falling short of ensuring that all people living in the United States are treated with dignity or even that their basic human rights are being respected. This is a sad reality in the United States in the 21st century.
How do we go about creating the Beloved Community that is welcoming and inclusive of all?
This is Brenda. She is a member of North Presbyterian Church. She is pure delight. She sings, dances, draws, paints, and writes poetry. I asked her if I could take her picture. She told me that she is not photogenic but the camera disagreed with her assessment. During the church service, she led the children in a song about notable African-Americans of the past. It is African-American history month.
Brenda had made this painting to remember a man named Leo, who recently passed away at the age of 52. He had been a mental health worker until he became too ill to work.
After church, Maria and I walked through downtown Cleveland. We stopped at a market for lunch and for ingredients for dinner. This market is located in a building that used to be a bank, the Cleveland Trust Rotunda Building. It is now the home of Heinen's Grocery Store.
The former bank is an early 20th century structure. In the United States, that is seen as historic, but, in much of the world, that is seen as a relatively new building. It was designed by architect George B. Post.
At the time, Cleveland was experiencing tremendous economic growth. The bank opened its doors in 1908.
Today, the building is now known as Heinen's Grocery store.
On Monday, I returned home via two buses and my own feet. It was a warm day, about 50 degrees, so walking the two miles from the bus stop, even with luggage, did not seem like an onerous task. A truck and a few people were outside, working on sewer liners.
On Tuesday, I went to zumba for the last class for two weeks. Kayla was radiating happiness about her upcoming trip to Florida to visit family.

By the time that I returned home from zumba, I was not radiating happiness. The room was spinning and my eyes were bulging. It was time for a nap, a very long nap. I had nightmares. They had something to do with presidential candidates saying the same things, over and over and over again. Something like that. Maybe that actually happened. My memories of Tuesday and Wednesday are already starting to dim.

I did not take one photograph all day. The blood tangerine, above, is actually a picture that I took on Wednesday… or maybe Monday… when you are sick, time seems to spin in an infinite loop.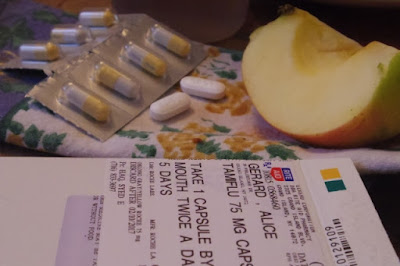 On Wednesday morning, I felt sicker than ever. The room was spinning and my ears felt as if they had been plugged by cotton. My sister took me to see Dr. Haq.
He said, "Did you have a flu shot?"
I said, "Yes, you gave it to me, in October."
He said, "It didn't work. You have the flu."
He let me know that I was not his only flu shot failure. He prescribed Tamiflu for me because I had been showing symptoms for fewer than 30 hours at that point.
I am very thankful to Dr. Haq for seeing me at such short notice.
On Thursday afternoon, lake effect snow came down hard. It was something to watch. I took pictures of snowfall from safely inside the house.
The neighbors' pool is closed.
I really like taking pictures of snow scenes in black and white.
Thursday was good day to stay indoors, which was OK for me because I was still too weak to go anywhere. I could, however, see that the medicine was starting to work.
The snow kept falling. It made a good spectator sport.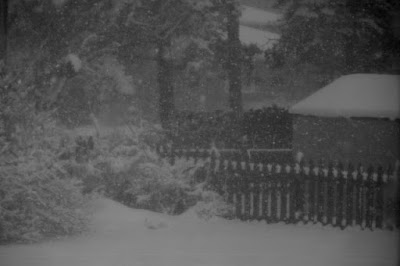 At times, there were whiteout conditions.
After the storm ended, the snowplow came to clear out the driveway. That was an especially good thing because it meant that my sister Vivian could bring pizza from Pizza Amore for my mom, her, and me to enjoy. Pizza Amore makes its pizza the traditional way, with a wood fire. They produce a variety of specialties, including a gluten-free crust. It was so good!
By Friday, I was back in the land of the living. No more continuous loop, illness-induced nightmares. Still not ready to go outdoors, so I took more snow pictures through windows.
This used to be a garden. Now it is just a vast expanse of whiteness.
What the heck? Could I be doomed?
At last. Well enough to play with my food. It was too cold to go outdoors. The polar vortex has struck. A code blue was declared. That means that all shelters are open for extended hours, including shelters normally used only for natural disasters. A large effort is made to get homeless people off of the streets and into shelters, for fear that they will suffer the dangerous effects of hypothermia and frostbite.
Apples come in so many varieties and sizes. Both went into the fruit salad.
Today, it is still cold, not as cold as yesterday. It is also my last day of my self-imposed quarantine. Tomorrow, I will venture out, briefly, into the lovely white winter world.