Note: Today's teacher story focuses on Rhonda Taylor, who teaches at Huth Road Elementary School. She is the advisor for the school's Early Act Club. The Early Act Club is a service club for children, ages five through thirteen. It is connected with Rotary International, and the goals of the club are to give children an increased awareness and knowledge of their community and their world. By being involved in the Early Act club, children can develop their empathy and can learn to see the dignity and value of all human beings.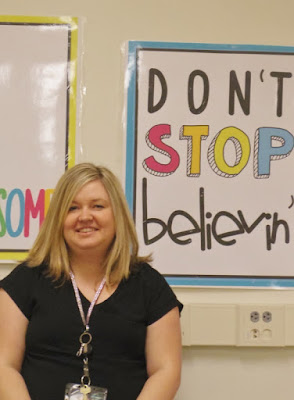 Tell me about what you do during the school day.


I work
between three inclusion classrooms, teach with Mrs. Gregson and Mrs. Cassata in
fourth grade and also with Mrs. Percival in third grade. The past two years, I
taught fourth grade on my own, while filling in on a maternity position. Before
that, I worked as a teaching assistant at Kaegebein Elementary School.
Did you have any other career dreams or did you know from an early age that you wanted to be a teacher?


I've
always wanted to be a teacher, even as a little girl. I always liked being
around young children and guiding them to make good decisions. I also had a few
amazing teachers along the way who have inspired me to want to make a
difference.
I
grew up in Lewiston and attended the Lewiston-Porter school system. My second grade teacher's name was
Mrs. Destino, and she was always very soft spoken and kind and passionate. She
taught me that having a big heart and showing your students how much you care
can go a long way in the eyes of a child. And then, in high school, I ran into
a couple struggles in a pre-calculus class. It was difficult for me, and I
wasn't used to struggling in school. My math teacher's name was Mrs. Matthews.
She met me in the AAC. That's an acronym for the Academic Achievement Center.
She met me there a couple times a week to break down the math, one on one, so
that I could understand it. And so, from that moment on, I knew that I wanted
to be that person for so many others. So I volunteered my time in the AAC, to support other high school students with their
studies. Then I went on and chose to pursue teaching in college.
Where did you go to college?
I
attended Buffalo State College for both my undergraduate and master's degree. I took classes
in elementary education, early childhood education, and my master's degree is
in literacy.
How long have you worked at Huth Road?


I
have been working in the district since 2007. This is my third year at Huth
Road.
How do you feel about teaching at Huth Road Elementary School?


From
the moment I walked into the school, everyone was so welcoming. The
collaboration of all of the teacher here at Huth is what makes it truly
special. We have a huge involvement of parents here at Huth. And I've really
enjoyed getting to know so many of the faculty members, especially working in
so many different classrooms.
What is it like to work in so many different classrooms in one day?


For
me, I really enjoy getting to know so many of the different teaching styles. So
I start my day with Mrs. Gregson, where we co-teach science and social studies.
Then I head to Mrs. Percival's room, where we finish up math and squeeze in
writer's workshop. After that, I head to Mrs. Cassata's room, where we finish
up math before and after lunch. Then I head back to third grade for literacy
stations. Then my day ends in academic support with Kathy Brown, where we
separate our fourth graders into smaller group to reinforce the ELA (English and Language Arts) and math
that was taught that day. I really should wear roller skates to school, each
day!
You get a lot of exercise! What has this experience been like for you?


To
be honest, it can be difficult to be in so many places throughout the school
day. However, I work with so many amazing teachers. It is a truly beneficial model and experience
for the students. Having more than one teacher is beneficial in so many ways. Staying
organized is the key for me! Keeping well thought out plans and staying in
close communication with each of the other of the teachers I work with is crucial.
What have you observed in the students?


I
think that, for me, especially working between two grade levels that are back
to back, it's really neat to see how the concepts piggyback off of one another. It's interesting to see the student growth, in seeing how much growth a third grader has in becoming a fourth
grader.
I'm watching kids put to use a skill or strategy that they've been taught, without telling
them to use it. When a student grasps something quickly and is willing to use
that knowledge to teach and encourage their classmates, you can see the pride
on their face. You can't help but smile yourself. It's really exciting to see
them teach and encourage one another.
Tell me about the Early Act Club at Huth Road Elementary School.


Early Act Club consists of 20 fourth and
fifth grade students, who want to make a difference in the lives of others. The
kids fill out an application at the beginning of the school year, expressing
their interest and ideas for the club. They need to be available to meet two
Wednesdays a month after school, and we also had a couple of activities outside
of school, as well. Like the Salvation Army bell ringing. We've had a couple of
district wide Interact and Early Act meetings (Interact is the service club for middle school and high school students). This spring, we will also be participating with Interact at a
garbage pickup at Beaver Island State Park. So this year, some of our projects
included holiday placemats for our residents at Elderwood. We made fleece
blankets for the animals at the SPCA. We had a snack drive for the pediatric
floor at Roswell Park Cancer Institute. We also helped with Huth Road Elementary school's food, pajama, and book
drive.


As the advisor, I feel strongly that the kids should know how good it
feels to give up something good for yourself to do something good for someone
else. A lot of our kids leave Huth wanting to participate in the Interact
clubs at the middle school and high school, as well.
Cindy
Robinson and I advised the Early Act club together last year. Before that, she had been the adviser. This year, the club was handed to me.
What would you like to tell parents?


I
think that the best thing that parents can do at home is to have meaningful
conversations with their children. Ask them about their day and their friends
and their after-school activities. Read with them. Engage in conversations
about their reading. I think it is easy to get wrapped up in technology, TV
shows, and video games, but it's so important to make meaningful time for one
another. Also, I I think that it is important to have our children do things
that are difficult for them, to allow them to safely make mistakes and encourage
them to try new things.
Should children be afraid to make mistakes?


No,
children should never be afraid of making mistakes. They should see them as a
way to experience growth.
What do you like to do when you're not at school?
I
have a five-year-old son at home. Mason is in kindergarten in the Niagara
Wheatfield schools. So when I'm not working, I devote most of my time to my
husband, Ryan, and to Mason, and to the rest of my family. We're lucky enough to have
my mom, Diana, around the corner from us, so we are able to spend a lot of time
together. Mason is the only grandchild on my side of the family, but he has ten
cousins on my husband's side of the family. We always get together for a family
dinner every Sunday with those cousins. We are very lucky to have our family
close by. On the occasional downtime, I like to shop, read, and spend time with
friends.