Today's teacher story today features Craig Poissant, the band teacher at Huth Road Elementary School. This is the third interview in a series that I plan to continue through the school year. Because I am the editor of the Huth Road Elementary School PTA's newsletter, I have the opportunity to interview teachers so that people could can get to know the teachers a little better. Unfortunately, there is not enough space in the newsletter to tell the teachers' complete stories. I hope that you enjoy reading the teachers' stories.


What role did music play in
your life when you were growing up?
I am
the youngest of six kids. All of us played an instrument, and my mom played the
piano. My second-oldest brother, Michael, is a band teacher. He plays the
trombone.
I
always loved music. I knew that I was lucky from an early age. I always knew
that I wanted to go into music education. I was always hyperfocused on teaching
music. I'm a classically trained saxophonist. I concentrated on classical
saxophone, which is not very prominent. The sax is known for jazz. Mostly, I
play alto saxophone.
When
I was in college, I had several playing opportunities that I realized. I
performed with top college ensembles at SUNY Fredonia. I earned my master's
degree from Ithaca College.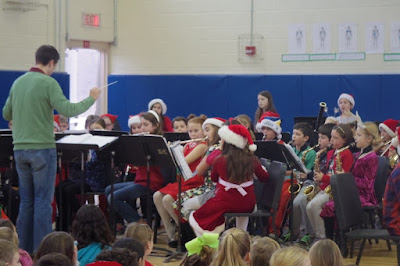 Tell me about teaching at Huth
Road Elementary School.
This
is year eleven at Huth Road. I love it. I wouldn't trade it. These is an
established culture of an appreciation of music. I feel very fortunate to be in
this district because I walked into a
district that values music education and values what I do. That's really it. I
wouldn't move anyplace else. I love the area; I love the culture of Grand Island.
There is a tradition of excellence that was in place before I started teaching.
I hope to uphold that tradition
.
What type of music do you
teach your students?
I focus on age-level appropriate music. I think that kids should have
a healthy dose of standard literature, sprinkled in with popular songs that
keep their interest level high. One of the nicest things about Grand Island is
that we start students in a jazz ensemble as early as fifth grade. That is
unique in our district. We do a holiday assembly. We feature popular holiday
songs, including a rock and roll version of "Deck the Halls." We usually travel
into different styles in late winter for an all-island jazz festival. It is a
very enjoyable concert. It is a showcase of all jazz ensembles from grades 5 to
12. It will be held on Tuesday, March 7th,
2017. The jazz ensemble is preparing for
it.
One
of the many highlights of the concert calendar are the all-island concerts. There
are two band concerts and one jazz ensemble concert. The concerts highlight the
progression of students from grades five to twelve. We love that. We get to
hear each other play.
We had
a beginner band concert on Tuesday, December 6th at Grand Island
High School. It is truly unique in Erie County and the State of New York to
have a beginner band perform a concert within three months of starting to play
the instrument. The kids get excited and nervous just as they should. The
nerves are high but they will do just fine. They always do. We find that, to
equate it to sports, it would be like having your first game sooner rather than
later. No one wants to practice for 12 months. Once your skill set is ready, we
find is good to do so.
We held
a holiday assembly on December 22nd for the school only. It was "a musical gift to the school." It
featured choruses, the orchestra, the fifth grade band, and the fifth grade
jazz ensemble.
What would you tell parents
about the benefits of playing a musical instrument?
I
would just encourage parents to consider the long term benefits of playing a musical
instrument. They are intrinsic. The intrinsic value of playing an instrument
far surpasses the musical knowledge that the students receive. They include concepts
like self-motivation, safe failure (it's OK to make mistakes) camaraderie,
contribution to a group, and you could go on and on.
What sort of music do you
enjoy?
I
love all music. I can find value in anything that I listen to. I appreciate
jazz and classical.
I
enjoy music by Aaron Copeland, Oscar Peterson (jazz pianist), John Coltrane,
and Charlie Parker (jazz saxophonists). Jazz and classical are my go tos.
Sometimes, I like to listen to popular music. I prefer instrumental music but I
will listen to whatever is on the popular stations just to keep up with the
kids these day.
Note: If you would like to hear an example of classical saxophone music, here is a video clip of a pianist and sax player playing a piece by Claude Debussy: