Yesterday, I went to the Village Inn,
with my friend, Cindy. I enjoyed a cup
of chicken d'italini soup and
cheese bread with a red dipping
sauce. The Village Inn, which
is owned by Mike Carr, is
a friendly restaurant that
is famous for its homemade soups,
fish fries, and other yummies.
Yesterday, it rained. The snow washed away as the temperatures rose. Today, it felt like spring. I went to Zumba and then I went to Wavelengths to see Jacquie, my hairdresser. She styled my hair. I felt totally pampered and happy. After that pampering experience, I walked over to Momma De's Mixing Bowl, where I had a cup of homemade chicken noodle soup. The broth was delightfully light, the soup was full of vegetables, chunks of chicken, and broad noodles.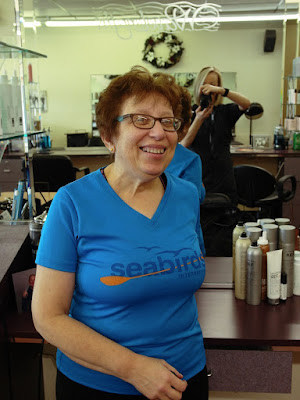 Every week, from Wednesday until Saturday, Momma De's features a different type of soup, along with paninis, wraps, breakfast pizzas, and her famous baked goods.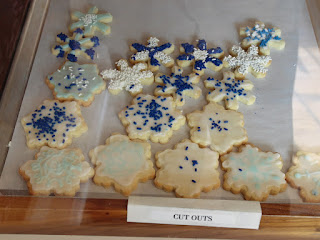 wintry cookie designs available
at Momma De's Mixing Bowl.
Momma De's is owned by Ellen DeNormand. She and her wonderful staff have made it a fun and hospitable place to enjoy a relaxing lunch.


After lunch, I went to the Island Ship Center to send a package to my sister and brother-in-law in Florida. Going to the Island Ship Center, which is next door to Momma De's, is always good. The owners, Fahim and Seema Mojawalla, have turned this business into the "spa of shipping." They delight in pampering their customers. Seema also sells her soaps and lotions, which smell wonderful and turn bathing and showering into a joyous, sensory experience.


The last fun place that I visited was the Clay Cafe, in the Grand Island Plaza. The Clay Cafe is owned by Melanie and Justin McKenney. They offer clay classes and birthday parties for groups. If you just want to paint pottery, you can go anytime that the Clay Cafe is open. You just pick a piece of unpainted pottery that is available. The paints and glazes are organized by color. At each table, there are mugs with a collection of paintbrushes in different sizes. I chose to paint a bowl. It was a fun and relaxing activity. The bowl will be fired and will be ready some time next week. Once I bring the bowl home, I will post a photograph of it here.


Woods Creek on Christmas
After my fun pottery painting experience, I walked home, passing Woods Creek, which, during the rainfall and snow melt, flooded its banks. Nevertheless, winter is coming back soon. The break from winter was much appreciated.


One view of Woods Creek today. You can see the flooding from the rapid snow melt.
Here is another view of Woods Creek, with some ice in the creek. Mostly the snow has melted, quite rapidly.
Today's question: What were some of the highlights of your day?