A Bear's Illustrated Tale
by Sweet Susie Bear (guest blogger)
My name is Sweet Susie Bear. My human adopted me after the tragic loss of Ginger Bear. I've seen pictures of Ginger Bear,but I never met her. I had other humans but they decided that it was time for me to find a new home so they sold me when they sold the garage. Well, OK, I left with my new human before I found out whether the garage was actually sold but that is why they call it a "garage sale," isn't it?
My human started taking me places and taking my picture, well, most of the time. Lately, though, she forgot to take my picture, so I've been sitting in a tote bag, feeling kind of forlorn and forgotten. Today, though, was a different story. My human was told by a friend of hers about this huge supply of ripe raspberries. They were ready to be picked and eaten. Mmmmmm, raspberries.What a treat… and in October!
Well here is my story: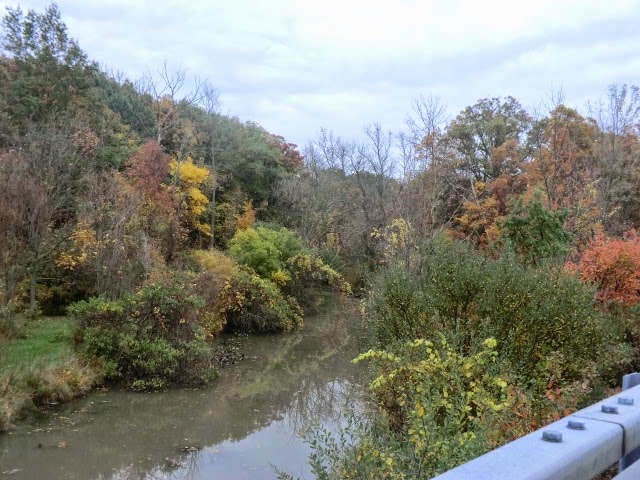 It was a warm October day. The sun was shining, and the Great Outdoors were beckoning for me to come on out and to explore the Big, Wonderful World.
The water was full of fallen leaves. They were various shades of red, yellow, and green. Some of them were kind of a dull shade of brown and a little ripped around the edges. I felt sad about the brown, ripped leaves but my human said that it was OK. The old leaves crumble and they break down and, after a long time (like a winter season or maybe longer), they are part of the soil and they help to nourish the earth so that more plants can grow and the trees can get new leaves next year.
I found out that autumn is spectacular. It looks like somebody poured a big can of red paint on this tree.
A little bear gets tired when she's on a walk with a walking tourist. This tree stump had all sorts of moss growing on it, which made it a nice, soft seat.
I'm not sure about these old, decrepit-looking stalks but, when my human and I were out for our walk, we saw them all over the place, covering up mailboxes and light poles.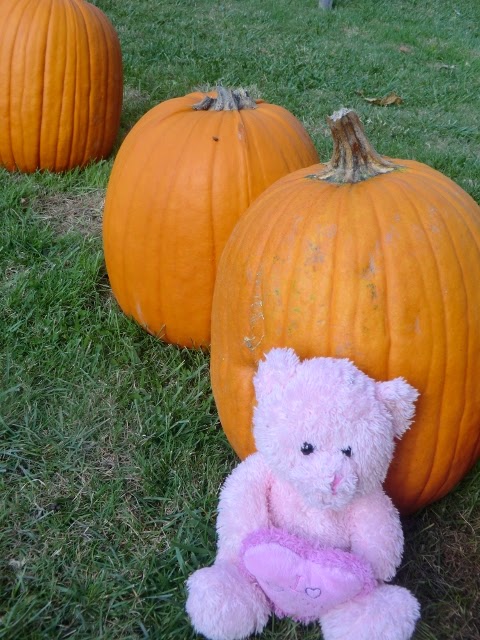 I am pink so I don't match the pumpkin too well but I still love pumpkins and I insisted that my human take a picture of me with the pumpkin, even though she said that she doesn't really like the pink and orange combination. She couldn't find a pumpkin of the right size to buy today. She likes those little pie pumpkins. She cuts them open and she bakes them and she makes pumpkin bread. Yummy! Then she toasts the pumpkin seeds. She told me that she loves crunchy food! Warm pumpkin seeds are a real crunchy food treat.
Along the way, we found the Last Rose of summer. Sort of like the song, which you can hear if you click me. This is Celtic Woman offering a sweet rendition of this song.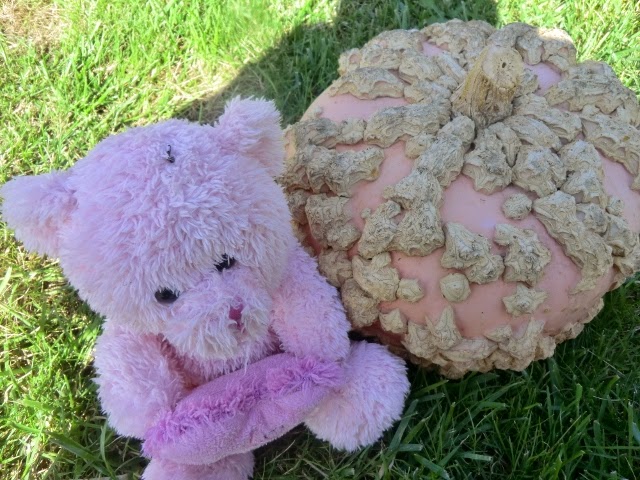 Here is one of the more unusual pumpkins. My human said that she will go back to Pumpkin land and see if she can find a better selection.
We went to visit the river. The human loves the river. She took me to the river in the summer, when we went to Buckhorn Island State Park, and we sat with jumping froggies. That was a real treat. Today, we were hunting for other little treasures… treasures to eat… yummy little treasures…
The human will eat only things that she can identify. I think that makes her fussy but she said that makes her sensible because some berries can make you happy, and other berries can make you sick. She said that these berries looked pretty but that, if she didn't know what they were, she'd have to let the birds enjoy the treat.
Here is something green and an interesting shape and all sorts of little seeds pop out when you open these shells.
Oooh look! Raspberries! But still unripe.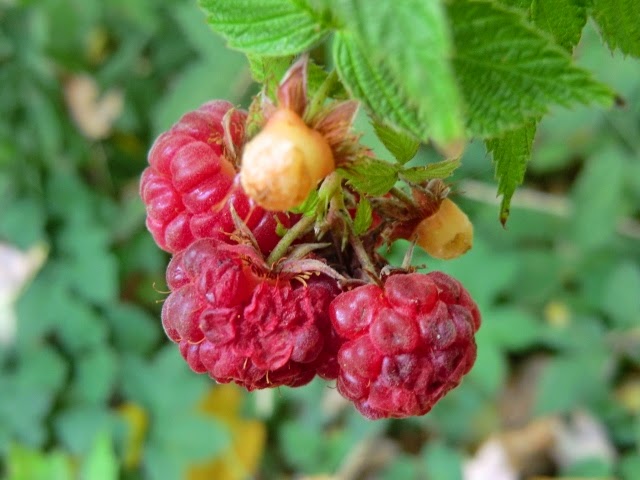 Yummy for the tummy! The human picked these and went off in search of more…
but she found these instead. She said that they were pretty enough for a picture but that she still wasn't sure about eating them… so she photographed them and kept going…
until she hit the raspberry jackpot! She walked amidst the brambles, collecting the sweet red berries. The other berries were red, too, but she said that she knows exactly what raspberries looked like and that they were calling her name. She must have great ears because I never once heard the raspberries calling out, "Alice! Eat me! I want to be in your tummy!" She says, however, that food calls her name all of the time and that, sometimes, she has to say no to it (horrors).
It was a good walk but, now, it's time to relax. I'll have more tales later for you.
Maybe some fractured fairy tales. How about that? Would you like fractured fairy tales? Which fairy tale would you like me to retell so that it is barely recognizable? Please use the comment feature down below so that you can share with me a fairy tale to fracture. Until then, bye bye and good night. And don't forget: honey is a fine addition to just about anything.