This morning, it rained, as it seems to do every Tuesday. I've started calling it a "Tuesday ritual." By late morning, the sun was shining, and I decided to take a walk so that I could see the river surrounded by color and light.
The Rose of Sharon bushes are starting to flower. There used to be a Rose of Sharon bush behind my parents' house, but a terrible early snowstorm in 2006 (called the "October Surprise Storm") cause the bush to split in half and die slowly. That sad-looking bush was recently removed.
This looks like it's going to be one heck of a party. I think that I'd like a pirate ship to be parked in front of my house, too!
During my walk, I observed all sorts of busyness. Here is a busy bee.
I can't get enough of the busy bee.
Before long, I've arrived at the river.
Docks and trees and lots and lots of blueness.
Here is some human busyness. These guys are building a foundation to a structure. I don't know what kind of structure it will be.
Here is another view of the foundation-to-be.
This garden has an anchor.
Here is a round structure. I've walked by it regularly for years and am still wondering what is inside.
I find quite a few gardens and some unusual plants as I walk along the river.
Here is a boat house.
One of many docks along the river. There are quite a few boats in the water, as boating season here is short.
The Niagara River.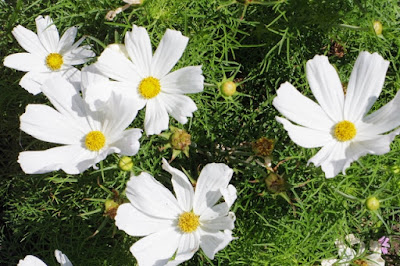 Here is another sign of busyness. This is a new house that is being built along the river.
The men work on the second floor of this house-to-be. I was told that this house, when completed, would be quite spectacular. There would be a wall of windows facing the river so that the people who live there could watch the river daily, regardless of the weather. (Will they adopt me?)
Here is a closer view of this house, currently a work in progress.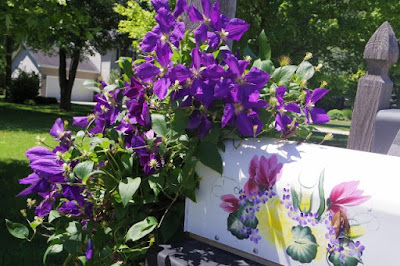 Living mailbox decoration (clematis).
Here is a monochromatic view of the flowers. The shapes are quite spectacular.
I am nearly home when I spot another sign of busyness. This small bee is very industriously working on the center of the daisy.
And then, sometimes, it's not about busyness, but about being. The mere existence of this variety of flowers brings joy.