Happy Earth Day! Today, I found beauty in the most unlikely place… a piece of land that is full of brush and plants with sharp spines. I found the beauty when I decided to pick up trash with a group that had been organized by Neil Gallagher, who has organized litter pickup parties in the past, with the support of Town Board Member Beverly Kinney.


The pile of rubbish was in an overgrown field on Baseline Road, near Grand Island Boulevard. In front of the overgrown field is a broken-down and faded for-sale sign.
For years, I walked past that piece of land and wondered if it would ever be cleaned up.


Today, we cleaned it up. A small group of adults, teenagers, and small children collected the litter and filled numerous plastic bags. We found trash bags, empty coffee cups, old store receipts, cardboard boxes, and fast food wrappers. We found bricks and handles of shopping bags. We found old, broken buckets and a deflated beach ball. We found junk mail and advertising circulars and yellowed newspapers. We found soft drink cans and water bottles without lids. The refuse, which once told the stories of human lives, had been there for a while, maybe years; some of the garbage bags and paper were partially buried in the wet mud.


The beauty of the day showed in the energy of the volunteers, who carried bag after bag past leafless shrubbery with thorns.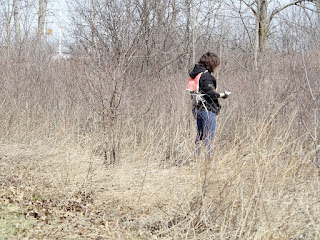 The beauty was apparent in the field, in which there was far less litter than there had been for many years.
The beauty of the day showed in other people who came out to collect rubbish to celebrate Earth Day. We spotted Rite Aid workers collecting refuse on the store's property. As I walked down Grand Island Boulevard, I saw two people, sporting garbage bags, collecting garbage near a tree on the grounds of Fantasy Island. As I walked past Fantasy Island, I saw the employees get into a golf cart and drive away, with the garbage bags in the back.


Litter collectors include Samantha Buccini, Lauren Ode, Kelly Cicero, Neil Gallagher, Vincent Corulli, Joseph, Joe, and me.
Tomorrow, the Earth Day celebrations continue. Make today and tomorrow and every day Earth Day!