On Sunday, April 8th, I went to Grand Island's spring farmers' market. It was held at the Knights of Columbus hall.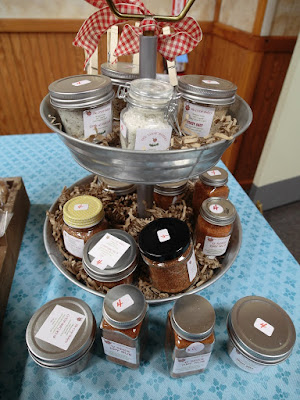 All of this yummy stuff
is made locally
It is a plain room, but the market itself is magical, with its array of baked goods, eggs, meats, olive oil, vinegar, honey, maple syrup, and other treats that were available to be purchased. People enjoy the farmers' market. It has been recognized as something that enhances the community by the Grand Island Chamber of Commerce, which has awarded Grand Island Farms, Inc., (the organization that runs the farmers' market) a citizen of the year award. It was recognized for "agricultural development."



What makes the farmers' market a beautiful thing? I wanted to get that perspective from the point of view of the people selling those wonderful agricultural products.



For one thing, there's maple syrup.
The real stuff, not the imitation stuff that is attractive because of the price, but has nothing in it that would resemble maple syrup. When I was a kid, we used to eat the stuff. My dad called it Sigh-ROOP. Once he discovered real maple syrup, we started eating that, and there was no going back to the fake stuff (probably just sugar water).


Sue and her son, a middle school student, were selling maple syrup in very attractive glass bottles. Sue kindly agreed to answer my questions.
Sue and her son appreciate the delicious flavor of the maple syrup that is produced at their family's farm in Watertown.
How did you get into the maple syrup business?
Well, my husband's
family has been doing maple syrup for generations. We decided to bottle the
maple syrup so we could sell it to individuals, as opposed to bigger companies.

And do you have
trees that you tap? How does it work?
Yes. Their farm
is actually in Watertown, and we live on the Island. The trees are out there,
on their farm.
Tell me what you
like doing this, what makes you happiest about it?
We just love
doing it because it's fresh maple syrup. Nothing is added to it. No
fertilizers. No GMO crap that they're always talking about. It's pure maple
syrup. I prefer the glass bottles. I like the glass better because it's better
for the syrup when it's hot.
My kids enjoy doing
it, too. It gets them to learn something different than playing video games and
sitting inside, watching TV.
The next person that I spoke to was Amanda. She was at the farmers' market,
selling a variety of foods, including baked goods, jams, jellies, eggs, honey, bacon, and more.
Do you see the farmers' market as beautiful? Tell me about the beauty that you see.
We're talking
about the beauty that's in this stuff, in the creativity here in the farm
market. Absolutely. You have the homemade jams and jellies, Amish honey and
maple syrup. But if you look deeper: people like to know where their food comes
from. They like to know that their products were raised in an ethical way. It
brings a sense of community. It encourages people to come to our farmers' market.
You have a
little community here. People come here and sit down for a bite to eat. They
are doing their shopping here, with their neighbors. That's one nice thing
about the farmers market, beyond the great items that we sell here.
So tell me. What
exactly is your part? Do you make stuff? Do you bake? Do you cook?
I sell. I help.
I help clean chicken coops. In the summer, I help in the garden and I do the
marketing for them.
Happiness is a
part of beauty, too. What about this makes you the most happy?
I like being at the farmers market and
interacting with people. I like to be outdoors. I like to be in the garden.
There is something satisfying about pulling a weed and growing a vegetable.
Tomorrow: Notes and conversations with the wonderful readers. If you've commented, I will chat with you!