As I clean and reorganize, I have found coins just about everywhere, which I've placed in a small tin, along with a bunch of flash drives. As I looked at the coins, it came to me that I have yet to see a 2020 penny. Usually, I manage to acquire a new penny by some time in March. But not this year.



It suddenly struck me that, by the second week in March, events and activities were already getting canceled.
It wasn't long before everything stopped, almost as if the world were going into suspended animation. The world had stopped before I got a new penny. I suppose that there are worse things than not getting a new penny. Like losing a family member. I know people who have lost family members, from the flu and from caronavirus.



It has now been more than a month since the shutdown occurred. And almost a month since I started writing these stories to document this experience. So I decided that it was time for a check in. Who am I? In the past few weeks, I've had very little human contact outside of the computer experience. It felt as if I had lost the me of me. And that did not feel good.



I've had to go within myself, to find out who I really was. The long days of aloneness were sapping my energy. I struggle with introspection, but the demands of life, even in a world of pandemic, were a strain. I had been attempting to clean and organize and my attention span wouldn't let me do the task. I saw birds or shiny things or paintings or anything other than the task at hand.


Cleaning and organizing accidentally opened a window to the past. My sister's cleaning of my dad's home office inadvertantly opened a time capsule, when I noticed a stack of letters that my sisters and I had written to our grandfather. I could see who we were back then, back when we were all young and where great things awaited us in future days. Cleaning and organizing unearthed old newspapers with articles that I had written. Years and years of articles.



Finding the letters and articles should have filled me with joy. But I was in a bad space in that interior world, a room that was occupied by relics of an uncomfortable past and by a being that represented the rejections and failures of times that lived only in the shadows of my mind. The Being that kept telling me, "You are not good enough." I sat in that room of failure, and I looked at the articles and at the letters and at the career that did not match the career that I had envisioned for myself when we were all young and great things awaited us.


Days passed by, and the world was still stopped. The news on the television and in the newspapers became more and more dire. It was hard to watch. The crushing hopelessness of the outside world matched the crushing hopelessness of my interior world.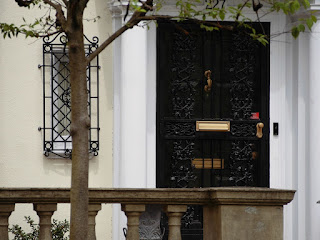 And then, a few weeks into the world of shut down, something happened. As I sat in that bleak interior room that kept my self doubts nourished and energetic, I noticed something that I hadn't seen before. A door. An old-fashioned heavy wooden door with a little keyhole beneath the doorknob. I walked to the door and tentatively tried the doorknob. Would it open or did I need a key to escape from the room of self doubt and past failures?



The door opened with just a push. How is it that is was so easy to open that door? Why had I not noticed that the escape from self doubt and past failures was that easy? I followed a beam of light into another room. A room with sunshine shining through large windows.
A room full of bright colors and paintings on the wall. My paintings.

The room with the being that represented my essence.

The being that told me, "You don't have to be good enough. You just have to be you. And you are enough."


And with that, the being pushed me out of the door of the world of self-reflection and introspection. I realized that, even without pennies from heaven or where ever pennies came from and without events in my datebook, I still possessed the essence of me. That I didn't have to be good enough. That I didn't have to be super journalist or super writer. That I could let my essence shine through my creative spirit.


The world is still shut down. It has not changed. But the inner journey has changed me. For the better, I hope. My interior resilience tells me that I have everything that I need. Except for a shiny new penny, of course. A penny from heaven.


Tomorrow: The train in my imaginary journey takes me to Afghanistan!