Another day in a shut down world. I am working on cleaning and reorganizing, at making sense out of chaos. Sometimes, buried beneath the junk, I find little treasures. Random coins that I put into a tin. Notes and memos, long forgotten. Writing utensils, some functional and others not. A photograph of me from long ago. Old letters that I had nearly forgotten that I'd written. A vision of me from a time long ago. A bunch of paintings.


I look at the stuff that is to be thrown out, stuff that once had great value, but, now, is just taking up space. Old theater programs. Yellowing newspapers. Broken jewelry. Stained pillowcases. I look at them and discard them, remembering the joy that they once brought me. I look at other objects and realize that the joy has fled, leaving nothing but nameless wonders.


In an interview that I had done a few weeks ago with my friend Giselle, she talked about cleaning and reorganizing a space as being a spiritual practice. I can see that.
Saying goodbye to the old wonders, both with names and unnamed. Finding homes for the art supplies and the writing utensils and all of those coins.


Today is another day of pause, of saving lives by staying at home.
I think of random stuff, like baseball. The bats are silent today because lockdown means no baseball. And speaking about bats, that's the blogging prompt for today. Bats. What's your favorite type of bat? I had no idea so I googled bats and found the Indian fly fox.
It's an enormous bat, with a wing span of four to five feet. It can travel up to ninety miles in a single night. That's pretty impressive. When I think about walking twenty miles in a day, I get tired and my feet hurt. And that's before I've even started walking. Those bats, because they travel so far, are excellent pollinators. You never really think of bats as pollinators.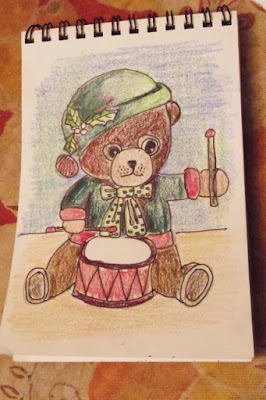 Usually, when I think of pollinators, I think of bees and butterflies and hummingbirds, not bats. So it was interesting to find out about the Indian fly fox.


And speaking about India, my virtual round-the-world journey is temporarily stalled at the Kuno Palpur Wildlife Sanctuary in Madhya Pradesh, India. In a few days, I intend to continue the journey, which will take me out of India, but I don't know which direction to go.
My two options are:
the Wakhan National Park, between the Pamir Mountains and the Indian Kush in Afghanistan or the Badakhshan National Park, in the Pamir Mountains in Tajikistan. And the third option is that I could visit both!


Let me know which option you prefer. You could tell me your preference here, in the comment section, or on Facebook. And thank you for following my imaginary adventure around the world!