Today's post is sponsored by the letter "J." In other words, it's "J-day" in the world of the A to Z blogging challenge. My relationship to "J" is a bit strained at times. I went to "J-school" (for "normal people" whose education didn't involve an undefined letter of the alphabet, that's "journalism school"), but my career sputtered and died, got revived, and then sputtered and died over and over again (think "Groundhog Day"). In other words, the Jobs were somewhat elusive. Well, if my Journalism career hadn't been dead in the water, a Job as a restaurant reviewer would have been quite Jolly. Imagine getting paid to eat? It's a win-win situation. I love to eat and I also like paychecks. Anyway, in hopes of being magically discovered as a future food writer, here is my review of the Sun Restaurant at 1989 Niagara Street, in Buffalo, New York.


Mmmm, green tea!
Today, I went with my friends Jean and Lee to eat lunch at the Sun Restaurant. Since I'm still doing my vegan detox, I knew that finding a meal that would fit into my dietary requirements would be a challenge. I was wondering if it was a good idea to go out to eat while on a vegan cleanse.


I didn't need to worry. My experience at the Sun Restaurant was fantastic. Even before we ordered our food, we were offered tea. Jean and Lee shared a pot of jasmine tea, and I chose to drink green tea. The tea came in beautiful, albeit heavy, teapots. The tea was delicately flavored. The teacups were cute and very tiny; hence, the tea didn't stay in the cup long enough to get cold.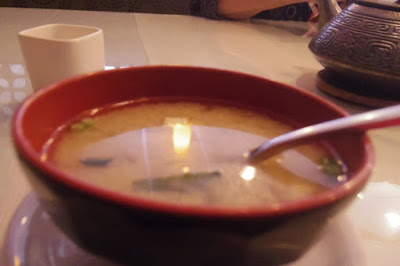 Miso soup
The selections on the menu included curries, stir fries, rice dishes with a choice of white rice or black rice, and noodle dishes. The noodle dish that I chose was stir fried clear bean noodles (Kya Zan Jyaw). It is gluten free and it can be served as a vegan dish by replacing the egg with tofu. In addition to the main course, we were also served a bowl of miso soup.


stir fried clear bean noodles
The food was very fresh and tasty and seasoned just right: not too spicy and not too bland. I didn't have black rice this time but I've enjoyed it in the past in the form of sun rolls, which come with different types of fish and vegetables.


If you are in the Buffalo area and you're thinking about trying Burmese food, I would definitely recommend the Sun restaurant (1989 Niagara Street in Buffalo and 5759 Main Street in Williamsville). It is truly a taste treat and a culinary adventure.