On Saturday, January 27th, I went to a wellness fair that was organized by Grand Island's small business group. It was a way to promote the businesses and the various service organizations in a fun atmosphere. I was told that the goal was to make this an annual event. The event was held at Key Bank.


I took a bunch of photographs of people, merchandise, and food. It was a delightful event and the businesses, the bank, and the organizers went out of their way to make everyone feel welcome.



This is a lovely display of skin care products that are sold at the Pink Martini in the Grand Island Plaza.
Diana owns the Pink Martini, a store that is full of products that heal and products that make people happy.
Jewelry display from the Pink Martini.
The Pink Martini offers many Grand Island products.
Seema's Boutique is located at the Island Ship Center. Seema Mojawalla makes a variety of soaps and lotions and other aromatic products. Using these products makes you feel very pampered.
Seema displays a very sweet-smelling soap.
Another aromatic product made by Seema!
Vienna Laurendi Haak runs a monthly support group for the families of kids with autism. She provided information on autism at her display, as well as information about the support group.
Nutrition is an important part of wellness. There was plenty of food available at the wellness fair. It was all quite delicious!
There were delicious vegetables and… um… stuff that's probably mostly good for your mental health.
This was exquisite and it was made by Seema!
Adrian's is a famous Grand Island establishment that serves ice cream and roast beef and other foods during the summer. They also make soups and other such yummy and appetizing foods.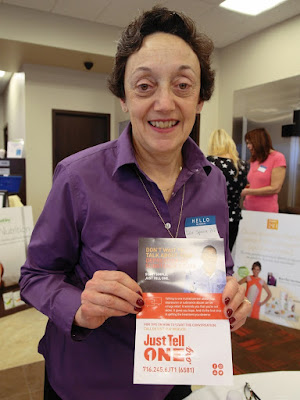 Celia Spacone is the former director of the Buffalo Psychiatric Center. She offered a wide variety of information on mental health issues and addiction.
Vienna and Alice enjoy each other's company.
Other exhibits at the wellness fair included the Lions' Club, which offered a vision screening; a facility that offers chiropractic services and acupuncture, and a florist (Flower A Day).