daffodils growing in a newly cleared
space behind St. Martin in the Fields church
Happy Easter. Here in Western New York, it was a sometimes sunny, sometimes rainy sort of day. For me, it was a busy, colorful day. I started the day with the choir at Saint Martin in the Fields Episcopal Church in Grand Island. The church was packed.
The floral cross
A four-month-old baby was baptized today. He was cute and very easy going.
After church, the wind howled. My sister gave me and my mom a ride to Hamburg so that we could sit at the shores of Lake Erie and watch the big, white-capped waves roll in. It was something to see. The wild waves have always been a common phenomenon in that part of Lake Erie. In the past, there was a lightship called Buffalo Lightship 82 to warn sailors of the dangers that awaited them if they should try to find land at night. Like a lighthouse, the ship had a big light on top that glowed at night. Unfortunately, in November 1913, the Great Storm of 1913 struck. Tall, crashing waves fueled by 80 mile per hour winds proved to be too much for the lightship, which sank. The light went out, never to be rekindled.
Years later, a plaque commemorates the spot near to the place where the Great Storm of 1913 unleashed it greatest fury.
back yard fence
In the evening, I was fortunate enough to be invited to share Easter dinner with some friends and their entire family, which included the four-month-old baby who had been baptized just that morning. I got a tour of the garden and a delicious dinner, surrounded by friends, old and new. It was also a birthday party for Jimmy, age three, and for Erin, age 29 (mom of the baby).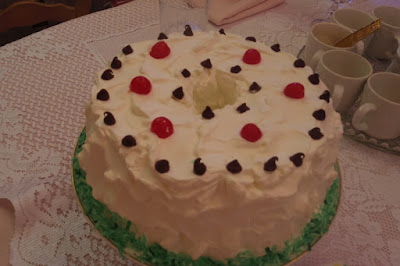 Mmm, cassata cake. A cassata cake is a
Sicilian delicacy. According to
Wikipedia, it consists of a round
sponge cake moistened with liqueur
or fruit juice and layered with
ricotta cheese and chocolate chips.
As Mr. Food used to say, "Oooh,
it's so good!"
What a beautiful day. I hope that your day was happy, as well.