Here are some fun and creative activities that you can enjoy that are not too expensive. You can enjoy these with both adults and kids. Just remember to turn off that internal critic. Your creative efforts reflect you. They are unique and original. We all tend to be our own worst critic, and it is that inner negative voice that needs to take a nap while you are exploring your own creativity. Fortunately, that big, bad negative voice can be turned off, especially when you're laughing and having fun.


That's one of those "picture or it didn't happen" photographs. Yep, people do ride on the backs of big, scary bulls… for about fifteen seconds!!!
1. You could go hiking in the woods, by a body of water, or you could walk in the city. Bring a camera or your phone with you and, while you are hiking, look for something that interests you to photograph. Or you could photograph your friends and family in goofy poses. Just don't pose them too close to edges. There are also odd things to photograph because you have to prove to people that you actually saw those strange sights. You know… "picture or it didn't happen"? That would apply to the toilet on the side of the road, the half car sitting on someone's lawn, the shovelman staring at the river (yes, it was made of shovels and, yes, the next time that I take a walk in that direction, I'm taking a photograph), the giant hotdog that passed you on the road, the horse and carriage going into the drive through at Tim Horton's, and the list of unusual sights goes on and on. Share the photographs in your blog or on social media and you and your kids can become citizen journalists. Don't quit your day jobs. It doesn't pay much!


One of these eggs is green!
2. Like to color? Equip yourself with an adult coloring book. You can find adult coloring books at dollar stores. It's a lot of fun to play with colors. You can use crayons, markers, colored pencils, or pretty much any dry medium you can think of. I generally prefer colored pencils for this.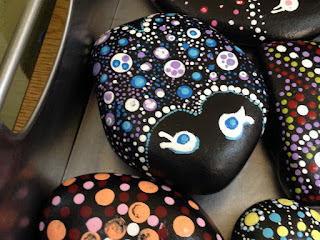 3. Paint unusual surfaces. You can paint rocks, fabric, wood, or glass. The biggest thing that I've painted is a chair. It was formerly a chair at Kaegebein Elementary School's library. It was a big project.
Rocks are much smaller projects so you can enjoy painting them without investing a solid three weeks of your life. Then you and your family or friends can find some place to hide the rock so that someone else can find it and photograph it or hide it somewhere else.
I also like to paint tall, narrow jars and repurpose them as vases. It's fun to paint hats and canvas tennis shoes and have wearable art. The best type of paint for the hats, tennis shoes, rocks, and wood is acrylic paint. When you finish your creation, make sure to spray a fixative over it. I like using glass paint for jars.


4.
If you like to knit or crochet, you can make fun things with scrap yarn. People will be happy to give you yarn that is left over from completed projects. I have been working on a 365-day crochet project this year. In other words, I crochet every day for the year. I've made one afghan from scrap yarn and another from yarn that I purchased. The third afghan is being made from scrap yarn. A lady at church gave me a big bag of leftover yarn, and I've been enjoying making hexagons from it. Once this afghan is finished, I am planning to donate it to a local organization that provides assistance to refugees. Doing a crocheting or knitting project and then donating the completed project is a fun and creative way to give back to your community.


5.
You could transform stuff that is past its prime, such as old boots, bed frames, wagons, etc., into planters. I turned my old recycle bin into an herb garden after I got my big recycle tote. Just by making a few changes, you've repurposed something, instead of sending it to a landfill, and you have a new and fun decoration for your garden.