Kelly's Country Store is a family-owned business in Grand Island, New York. It opened in 1962 and it has become a destination for many visitors to Grand Island. They sell a large selection of candies from old fashioned jars, as well as many varieties of chocolates. The candies include licorice, peach stones, root beer barrels, and much more. Of course, the collection of chocolates includes sponge candy, which has its origins in Buffalo. It is a delicious treat that is hard to describe so, if you get a chance to eat sponge candy, go for it. Kelly's Country Store has several rooms full of interesting stuff, and they have entire rooms that are dedicated to (dare I say it in October?) Christmas. Oops, I said "Christmas" in October. (now I said it twice)

Anyway, it's not… CHRISTMAS yet. It's autumn, and Kelly's Country store held its very first farmer's market during this past weekend. It featured food, music, a petting zoo, vendors with interesting stuff, and loads of fresh fruits and vegetables for sale.

On the grounds of Kelly's Country Store is an old one-room schoolhouse. It was one of several one-room schoolhouses in Grand Island. The schoolhouse was opened to visitors for the weekend. It was an interesting structure, and I will have pictures of that in tomorrow's blog post.

Below are some of the images of the farmers' market.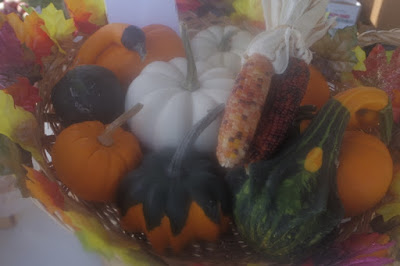 Here is a lovely display of autumnal delight.
Autumn looks beautiful at this outdoor stand.
Alpaca love.
All the good stuff of harvest time, along with farm-fresh eggs.
Kids had a change to paint pumpkins in a variety of patterns and colors. Here are some of their masterpieces.
Laughing Alpaca.
This alpaca has something to say.
Pretty hot peppers that deliver quite the zing.
Loads and loads of hot peppers.
Everything Grand Island is part of Popular Graphics, a print and design shop located in Grand Island, New York. It sells all sorts of things, all with a Grand Island theme.
These are some Grand Island photographs that are available to decorate the home of anyone who enjoys all things Grand Island.
This is Trish Birtz. She and her husband Steve have a farm in Grand Island. They sell a wide variety of produce and foods prepared from their produce, including garlics and peppers and other good things. Trish offered a pointer about the garlic. Keep it in a paper bag and do not refrigerate it. She said that refrigeration causes garlic to become moldy. The garlic is very fresh and it is delicious in any recipe that calls for garlic (for me, that would be most recipes).

Tomorrow: Images of Grand Island's one-room schoolhouse.