Today, I'm talking about failed efforts to do something creative. You've made a painting and you really don't like it. It doesn't make you happy. In fact, it just looks like a chaotic mess. And then, there's that crocheting or knitting project. You are working quite happily when all of a sudden… you realize that you misjudged the amount of yarn you need and… you run out. And, for one reason or another, you cannot get more yarn. You've got to choose between adjusting or abandoning a project that is beginning to feel like a failure. What is your next step?
Do you head straight to the trash receptacle and remove any evidence of your mess-terpiece? Isn't that a cool word? I mean receptacle, not mess-terpiece, although that's a cool word (or nonword), too. So much better than just plain old garbage can?
Are you sure about that? And are you sure that your creation is a total failure? Well, if it is, you're not alone in creating failed disasters. Think about that scene in Mel Brooks' famous movie, "Young Frankenstein," when the scientist/surgeon discovers that he implanted the wrong brain into a very large body. It goes like this:
Dr. Frankenstein: Igor, would you mind telling me whose brain I did put in?
Igor: And you won't be angry?
Dr. Frankenstein: I will NOT be angry.
Igor: Abby… someone.
Dr. Frankenstein: Abby someone. Abby who?
Igor: Abby… normal.
Dr. Frankenstein: Abby Normal?
Igor: I'm almost sure that was the name.
Dr. Frankenstein: Are you saying that I put an abnormal brain into a seven and a half foot long, fifty four inch wide GORILLA? IS THAT WHAT YOU'RE TELLING ME?
So much for Dr. Frankenstein's brilliant experiment to insert the brain of a deceased genius into a very large body. Dr. Frankenstein and Igor had to live with the result of the Igor's failure to bring the correct brain from the laboratory (he had accidentally dropped it on the floor, rendering it unusable). They had to adjust to the situation, and they did.
Back to the bad art. I would suggest not even thinking about that garbage can. There are things that you can do either to fix the painting or to reinvent it. Your art work may look like a failure. But why not transform failure into something different? Something creative, as opposed to garbage can material?

One time, I was painting a scene with white flowers with an impressionistic sort of background. The colors got away from me, and they started running together, looking like nothing. I was frustrated and annoyed. Virginia, the painting instructor, told me that hope had not fled. She offered me a sharpie and suggested that I draw the shapes on the painting. After thoroughly drying the painting, of course. There was a blow dryer available for the purpose of drying wet water color paintings. Sharpies really don't like wet surfaces. Adding the drawing over the painting saved the painting for me. It added definition to a painting that looked too vague for me.
Another painting disaster occurred when I was trying to paint a sky. The colors were too dark and dramatic. If it were a sky, it would have been the worst storm that ever occurred. I thought that it was atrocious. I took it home and forgot about it. Until the next week, when I returned to class and pulled it out of my bag.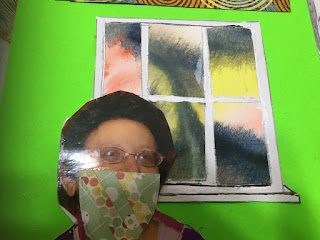 It looked just as atrocious as ever. I decided to try something different. I cut up the painting into little strips. The little strips looked cool and abstract. The instructor, Jody, saw the little strips, and she said that cutting up the painting was a good idea. She showed me various things that I could do with the little strips to reinvent the painting. Since then, I've used a few of the strips in a collage as… guess what… the sky as seen through a window!

Then there was another painting. It really didn't look like anything. No focal point at all. I put it away and forgot about it. Until it was time to find something to put in that same collage that I just mentioned. As a painting on a wall. I was looking for abstract. And cutting up the painting gave me exactly what I was looking for!

Now on to the crochet disaster. I had a floral pattern, and all of my squares were supposed to look alike. Unfortunately, I ran out of pink yarn and was unable to obtain more.
This is how I adjusted to give the afghan a different look.