For a few years, I have been participating in the Ultimate Blogging Challenge. It is held four times a year. The challenge is to write a blog post every day for an entire month. So, today is the first day of the October challenge.

Today, Saint Martin in the Fields Episcopal Church in Grand Island, New York, held its annual pet blessing. Saint Francis, whose feast day is October 4th, is the patron saint of animals and ecology. Saint Francis of Assisi, Italy, who was born in the early 1180s, saw all living creatures as brothers and sisters under God. He preached to the birds and he blessed the animals.
The pet blessing service was held outdoors. A variety of people and animals were in attendance. There were many dogs and one cat in a cat carrier. Prayers, readings, and songs were offered in honor of the cats and dogs that add such joy to our lives.
A dog and its human.
There is so much for a dog to see.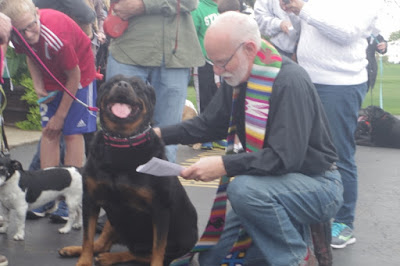 After the prayers, the songs, and the readings, Father Earle King blesses each individual animal.
Father Earle enjoys visiting with the dogs and offering a blessing for them.
Also happening at Saint Martin in the Fields was a fundraiser for the preschool (Jack and Jill) that operates during the week on the ground floor of the church. The fundraiser included food trucks, a bake sale, and a 50/50 split ticket sale. In addition, the Erie County Sheriff's Department came to bring Operation Safe Child to Grand Island. Parents receive a card with important information about their children, and this information is digitally recorded by the Sheriff's Department. It protects both parents and children. If a child is missing, having this information can help police find the child much faster, with the goal of reuniting families.
Yum. Food!
Bake sale!
Treats for people of all ages!
Frankenstein's monster has never been sweeter.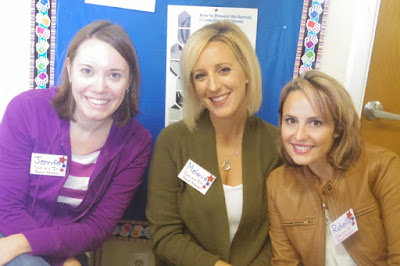 This is the staff of Jack and Jill preschool.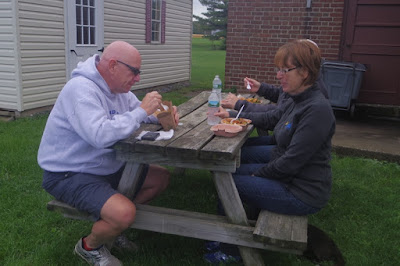 It is time for a picnic!