Thursday was a fun and adventurous day, definitely worthy of documenting.
I started the day by doing the finishing touches on a photo display for my art exhibit at the Grand Island Memorial Library this month.
The trees were still covered
with ice after Wednesday's
ice storm.
Early in the afternoon, Kathy, an artist who has had two displays at the library, drove me and some of my art (the photography display and a collection of drawings) to the library. My paintings had already been delivered to the library and were being stored in the library director's office. Well, today was the day to set up the exhibit. It was fun to make my own little museum, which included the artwork and my artist statement. The title of the exhibit is "Alice's Art Journey." The artwork will be on display at the library for the entire month of February. If you're in Grand Island, come over to the library and visit it!
my switch plate
cover prior to
firing.
My next stop was to the Clay Cafe, where I painted a light switch cover. I drew a geometric shape on it and painted it in bright colors. It was a lot of fun. I think that the colorful light switch cover will add a lot of brightness and happiness to a room.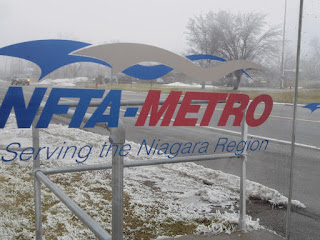 waiting for the
bus to Buffalo














After that, I went to catch a bus into Buffalo.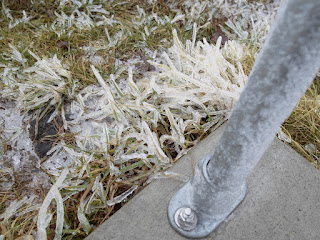 grass coated with ice.
I had an easy, uneventful bus ride and arrived in downtown Buffalo, where I started walking up Franklin Street. We met at a restaurant named Giacobbi's Cucina Citta, a lovely Italian restaurant in Allentown. We shared a dinner, as there was a choice of having an individual plate or having a "family meal."
pasta with broccoli and shrimp.
There was plenty of food in the family meal, and Diane took the leftovers home with her. The food was delicious, and the service was excellent. When we left the restaurant, it was actually warmer than it was when we arrived. We walked to the subway station and took the train to the last exit, which is called a "special events station." It is directly across the street from the hockey arena. The train was full of people who were dressed in Sabres regalia. They were definitely ready for the game and had the fashion statement to show it.


So far, it had been a pretty awesome day. Art exhibit, switch plate painting, scrumptious meal… Sabres game. What could go wrong?


Diane and I were directed to the 300 section, where our seats were with a group from Saint Martin-in-the-Fields church. We arrived and I saw that the whole section was a gigantic and very high edge!!!


Years ago, someone told me that I was not afraid of heights; I was afraid of edges. And this was an edge. The arena started spinning in circles. Our seats were not visible to me. Diane walked around and grabbed the bannister. She reached a hand to me. But my vertigo and my phobia told me that I would fall off of that edge before I could reach Diane's hand.


It was not rational. Phobias are never rational. Knowing that my phobias are not rational doesn't seem to work in making them go away. I couldn't move. I was stuck in one spot.


I believed that my fun and happy day had ended with terror. I stood there, staring at the abyss with a mixture of fright and fascination. My phobias told me that I was staring at the face of death.


Standing in that spot was scarier than being thrown from a raft in the Genesee River. It was scarier than…


Just then, one of the ushers interrupted my morbid fantasies and suggested that I talk to someone at a booth across the hall. And so, I did. I explained my fear to him, and… he offered to exchange tickets for me. My sister came back, and we both got new seats… downstairs on the first level. We went to our seats, and I could see where I was going. My terror wafted away slowly. We went to our seats, and Diane thanked me for having a panic attack.


"It wasn't fun."


I took a look at the game. It looked really close. Our view was spectacular.



Let's go, Buffalo!!!
"Um. Er. Wow," I said as I dug my camera out of my purse, changed lenses, and started taking pictures. I was hoping to get a photograph of a Sabres player scoring a goal but never did. In the first period, the Sabres were behind by the score of 2-0.


"I think that the Sabres need a confidence builder," I said to Diane.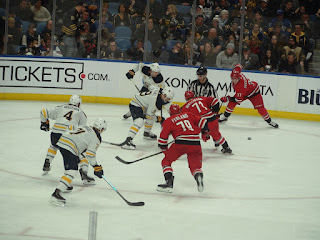 Find the hockey puck!
In the second period, the Sabres got their confidence builder when they scored their first goal. That's when all of the fun burst out. Diane and I appeared on the Jumbotron.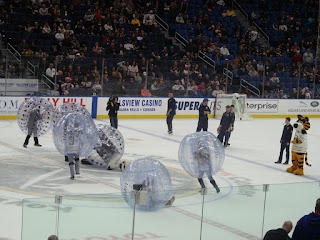 Some of the fun entertainment
between periods involved
bubble people and
Sabretooth!
Between periods, there was a lot of fun entertainment. It was truly a multi-media experience.


At a hockey game, everyone who sits near you is your friend, whether you know them or not. When the Sabres scored, we all high fived. We all chanted "Let's go, Buffalo," and we all danced gleefully at each of the Sabres' five goals, two by that great player, Jeff Skinner. The game was exciting to the last second. Regulation time ended in a 5-5 tie. A few minutes later, sudden death overtime began. We were all on our feet, yelling and cheering for the Sabres to score. Maybe Jeff Skinner would score and achieve his hat trick? But it was not meant to be. The Carolina Hurricane scored the game-ending goal with about two and a half minutes to go in the five-minute overtime.


Despite the loss, I felt happy that I had the opportunity to watch the game and grateful to the Sabres organization for making my experience so joyful.
Diane and the
famous Conehead!
I feel so grateful to them for accommodating my needs. They are a great organization. I hope for nothing but success and happiness for the Sabres.


Diane and I were driven back to Grand Island by Eric Boron, who had actually spent the day in New York City! We walked a number of blocks back to his car. It had gotten warmer during the course of the evening, and it was a happy walk. That weather did not last long. By the time I went to sleep, the wind was howling like a lonely wolf.