On Saturday, June 24th, the Grand Island Chamber of Commerce presented its 21st annual KidBiz. This event offered kids from second through eighth grade the opportunity to create their own businesses and to sell their products at tables in Town Commons. There was as big a variety of products as there were kids. The products included fidget spinners, stress balls, jewelry, handmade soap, baked goods, beverages, and more. The weather was perfect for the event; after it was over, the rain started falling.


For people who got hungry, there was a youth ambassador fundraiser, sponsored by Buffalo Dog House and Mount Saint Mary's Hospital. For a three dollar donation, people could have a hot dog, with or without baked beans, and a beverage. As you will see from the pictures below, some very famous island residents took turns cooking and serving the hot dogs. The baked beans were self serve.
Here are some images from KidBiz:



At this booth, there is a variety of colorful candles.
The Craftastic Girls offer a variety of vivid merchandise.
Everyone wins! One dollar for a spin. My prize was a stress ball. I chose a green one because it seemed to be a relaxing color, good for stress relief.
Business partners.
Jam and handmade soap. I bought the soap and like it very much. It has a pleasant aroma and it produces a lot of suds.
fashion statement for a little dancer.
Necklaces in a variety of color schemes.
The designer models her necklace.
Selling succulents for the garden and other good stuff.
Fidget spinners designed by Dave and Josh. They had to find the right type of bolt and glue to make this work.
Josh, Dave, and their dad Rick demonstrate enjoyment of the fidget spinners.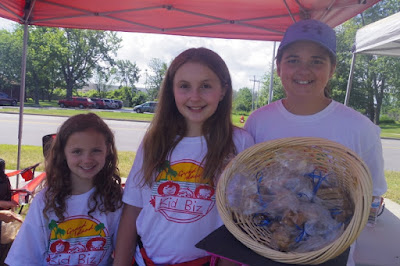 Goodies for sale!
Town Board member Ray Billica grills hot dogs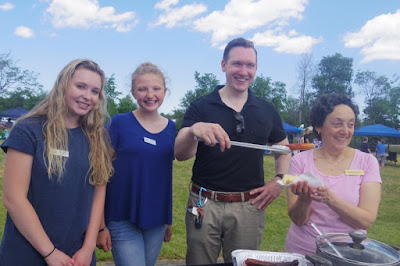 Town Supervisor Nathan McMurray and Town board candidate Celia Spacone show a technique for serving hot dogs as the Chamber of Commerce Youth Ambassadors look on.
Nate McMurray and Town Board Member Bev Kinney are now proud graduates of Hot Dog University. Here they are, showing off their certificates after passing the hot dog cooking and serving test.
Fashionable scarves for sale.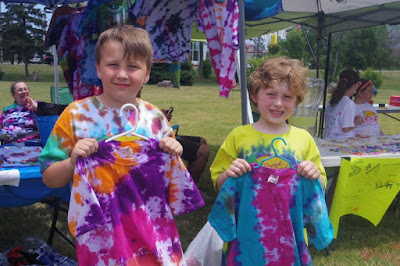 These two designers sold tie dyed t-shirts in a variety of patterns and colors.
Here are two satisfied customers.
Bracelet with a Grand Island charm.
This designer drew a picture of Grand Island, as well as the date that the town was established (1852). The charm has the image of the island, as well as the year.
This was a beautiful way to show off the bracelet. It came in two sizes, and all of them were sold.
All in all, this was a fun and, I hope, profitable experience for the young merchants, and an enjoyable shopping experience for the customers who came to KidBiz.