I came to Cleveland to celebrate my friend Maria's birthday. For a variety of reasons, I had to make it a quick overnight adventure. I caught the 10:10 a.m. bus from Buffalo. Because I had to edit my article about rain barrels and compost bins, I had to turn my bus seat into a rolling office. I was a Techno Girl today. I recharged my cell phone and I plugged the computer in. It's nice that buses are equipped with electrical outlets, and I certainly made use of them.
At 2:15 p.m., I arrived in Cleveland. Maria was on her way to pick me up so I sat in the bus terminal and watched President Obama on television, as he tried to sell the deal with Iran to the public. Certainly, a lot of work was done on the deal but I think that I'll need to read more about it so that I can understand it a little better.

But I digress. When Maria arrived, we left the bus terminal and walked around downtown Cleveland. We were headed to a market so that I could have a little lunch and Maria could buy some food. She was looking for something called Veggie Mite, but, apparently, the market, called Heinen's, didn't carry it. At Heinen's, which is housed in this lovely building with amazing ceilings (which I photographed), I ate a delicious butter bean salad. The salad consisted of butter beans, grape tomatoes, olive oil, English cucumber, cut corn, red onion, fresh cilantro, garlic, pepper, and ground cumin. All of that delicious flavor came from the cumin and the cilantro.
There were many different places to buy food at Heinen's.
The paintings on the wall told a story about times long ago.
After leaving Heinen's, we kept walking and soon arrived at the Old Stone Church. It is a Presbyterian church. It has very ornate doors. I am quite fascinated by ornate doors. I was going to take a picture just of doors but soon realized that a picture of doors without a human would be quite dull. So here is Maria. She has celebrated her birthday all day.
Maria enjoys the ornate doors and the camera, which was aimed her direction.
I am left to contemplate painting a portrait of the ornate doors…
Here is some more information about that fascinating old church.
Cleveland is full of colorful gardens. Here is a little garden around a shrub.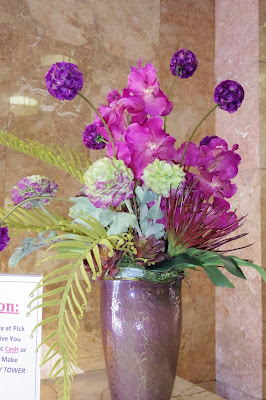 At a hotel in downtown Cleveland, there was this bouquet of silk flowers. I took its picture. It looks like a lovely still life. It is the most attractive silk flowers that I have ever seen.
gates.
We went outside, where we were treated to this view. Years ago, people called Cleveland "the mistake on the lake." I think that time has a way of healing all things, and Cleveland looks like a busy, growing, living city these days.
After our walking adventure ended, Charlie picked us up and drove us to Batuqui, a Brazilian restaurant in Cleveland.
We were celebrating Maria's birthday, and Maria and Charlie were celebrating each other. We were also celebrating nature, as we took the opportunity to warm up on Wednesdays.
Ahh, food. We started off with these lovely little cheese rolls.
followed by a side dish of ballroom dancing…
The food was beautifully presented. It tasted as good as it looked. The service was also very attentive. Maria could do all of the ordering in Portuguese, which was an added bonus.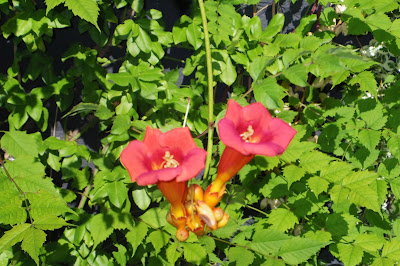 The restaurant also boasted several lush plants. One of them is the trumpet flowers.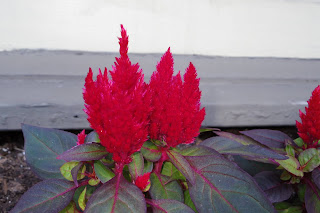 Tomorrow: Maria's birthday at Mitchell's, a famous ice cream parlor in Cleveland!