Today is a celebration of small business, called "Small Business Saturday." People are encouraged to visit their local small businesses today. My friend Diane and I took a little adventure into the world of shopping, here in Grand Island, New York. First, we started with the smallest of all small businesses: the garage sale (the sporadic type of business). The person running the sale was selling various sports memorabilia: signed footballs, football and hockey jerseys, baseballs, and various other professional sports-related merchandise. As you can see from the above portrait of NFL Hall of Famer Andre Reed (wide receiver for the Buffalo Bills from 1985 to 1999 and with the Washington Redskins in 2000), the memorabilia comes with a Certificate of Authenticity.
These make great gifts for people who are fans of the teams. They will definitely treasure these items.
Our next stop was to Kelly's Country Store. This store was established in 1962. It is a landmark in Grand Island. It sells a variety of chocolates and that most delicious Buffalo treat: sponge candy. The family that owns Kelly's Country Store goes all out in their celebration of Christmas. The store is completely decorated. You can buy all sorts of Christmas decorations, ornaments, and more. There is actually a room that is called the "Christmas room."
When you go into the Christmas room, your jaw will drop because the room has been transformed into a Christmas wonderland.
It is very glittery and bright, just the sort of thing to make you happily forget that it's cold and damp outside and that the sun is setting earlier and earlier each day.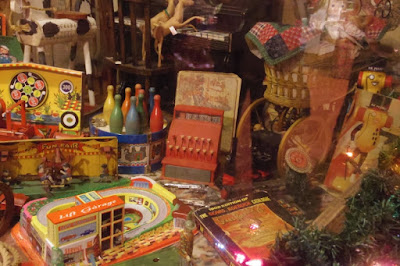 You can even get a glimpse of the toys of long ago.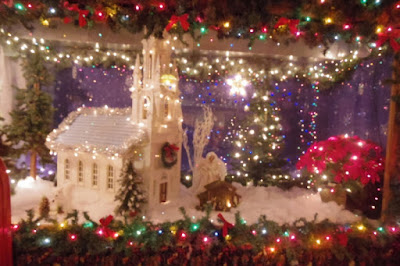 There are miniature worlds of lovely, snowy Christmases.
… angels and manger scenes…
… a warm welcome for friends…
… and delightful little elves… and, with that, we took our leave of Kelly's Country Store. Our plan was to visit the holiday special edition of the Grand Island Farmers' Market next. It was, however, just 10:30 a.m., and the farmers' market was opening at eleven o'clock. So we headed down to the Village Inn, a lovely, locally owned restaurant in the southern part of Grand Island. The Village Inn is well-known for its soups and desserts.Today, I chose the tomato-basil bisque. It was creamy and delicious.
Portions of the farmers' market were outside and others were indoors. Here is a lovely handmade wreath.
Inside, there were goodies and taste tests and interesting things for sale.
This is Robin. She was selling her very scrumptious honey.
This is one of the more unusual of the offerings. Who ever thinks to put bacon in the jam. There are people who have suggested that everything tastes good but that bacon (in just about everything) can only improve the flavor of food. Bacon soup, bacon stew, bacon mashed potatoes, bacon tea????? Um. Well. OK.
Back outside, I noticed this display of wreaths on a wall.
It's getting to be time to select a Christmas tree.
There are so many choices, so many trees.
Diane and I paid one more visit to Kelly's Country Store. Santa Claus had arrived, and many children were on line, waiting for their turn to talk to Santa and to ask him for their heart's desire.
Today's question: If you were to visit Santa and ask him for your heart's desire, what would it be? What would you like to have Santa give to you? What gift would make you happy?