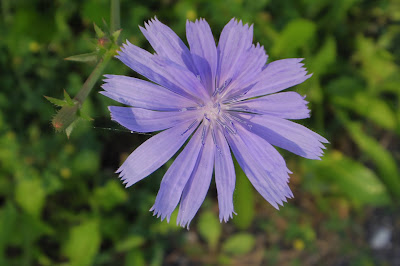 Today, I walked to church and took the camera out for a second test drive. I mainly was interested in how the camera did with closeup shots. Above is a picture of a flower that I have never been able to photograph so I considered that flower to be a good test of the power of the camera.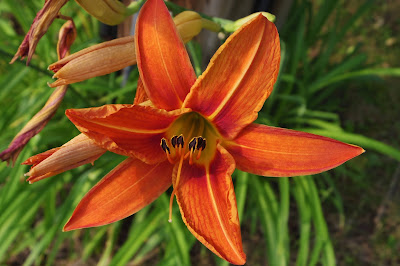 These gorgeous flowers grow by the side of the road, in ditches, and along fences. They are so abundant that they are almost unnoticed.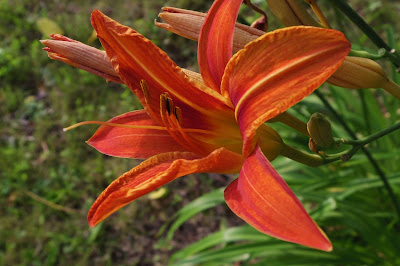 Here is another view of the radiant roadside flower.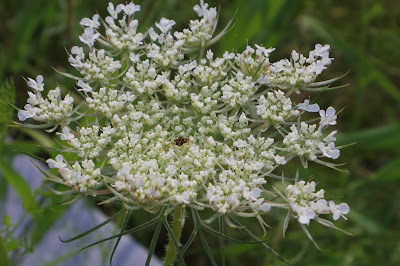 Queen Anne's Lace. This is yet another one of those plants that grow in such abundance that they get almost no attention. This is where there is a fine line between wild flower and weed. When they creep into your carefully designed flower garden, they are called "weed," and they must be eradicated immediately. In a meadow or the woods, they are most definitely wild flowers. Bees like to sit on them.
This is part of a floral arrangement, featuring purple, pink, and white. Alas, I seem to be unable to name all of the flowers so I cover up (or attempt to cover up) for that by calling attention to the lovely color scheme. By the way, the camera does capture color quite nicely.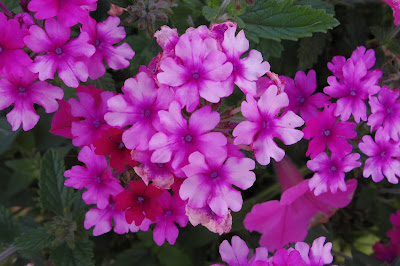 Pink is a great color. I love it. It reminds me of strawberry ice cream. Yes, I think that I can find foods for nearly every color.
Blue=blueberries, red=cherries and raspberries, green=broccoli and lettuce (but never bread!), purple=eggplant, yellow=summer squash, brown=chocolate, white=cauliflower
I have been told that, the more colorful the food is on your plate, the better your diet is. I don't think that applies to very colorful candies that are made that way with the use of food dyes, however.
Yet another shade of pink inside the same basket. After the nightmarish (and seemingly endless) winter that I experienced this year, I am so grateful to see bright colors.
Here is another view of the above plant.
Here is a still life with music and a bouquet.
Here is a small portion of my own garden. It is a very tiny garden so I am able to lavish loads of attention on it.
This is a rock that I painted for the garden. The painting technique is called "one stroke painting." It is a relatively easy method of painting that is used for decorative purposes. You use an angled paintbrush and make very few strokes to get the image of the flower. You don't have to make a sketch before you start painting. It is a relaxing activity, which is good for people who have to deal with high stress jobs that leave them anxious and exhausted. It provides relaxation and you have something pretty at the end of the experience. That is surely a winning combination.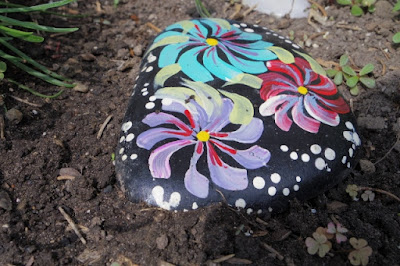 Here is another view of the same rock.
Here is another rock. I used a different technique with this. This one involved drawing with the paintbrush and then adding color. I added one color at a time and did not mix the colors.
Working in your own garden is also a good way to relax. In fact, gardening is considered to be therapeutic. There is something called "horticultural therapy." Putting your hands in the soil feels good. Horticultural therapy can be used in a variety of settings, from vocational rehabilitation to nursing homes to mental health settings. The activities can be adjusted to accommodate people with differing physical abilities, as well. For example, a raised bed can be placed on a tabletop, so that people who are in wheelchairs or who cannot bend or stoop can work on the garden.
Here is a plant that started out tiny and became big. It has lovely little blossoms. I have several plants like this in white and pink and purple.

Enjoy your day and your gardens! Have a great day!