Curt Nestark brought a variety of historical objects to the Lions Club meeting. There was a story behind each object.
The Grand Island Lions Club asked the Grand Island Historical Society for a presentation on local history at its November meeting, which was held on Wednesday, November 12th. At the October Board of Trustees meeting, it was decided that Curt Nestark, our fearless president, would do the presentation and that I would be the assistant. The assistant's job is mainly to carry boxes, unpack boxes, set up the display and, later on, repack the boxes, and carry all materials back to Curt's truck. Notice that I said "truck." That is for Curt's benefit because, at various times, I misspoke and referred to Curt's vehicle as a lowly "car." I am not to say "CAR," when I mean "TRUCK." Because I have three sisters and no brothers, Curt and I decided that, while I was growing up, I missed on the most entertaining part of life… a big brother. Hence, Curt became my "adopted" big brother. And, I must say, he has truly acted his role. So have I. People tell us that we really do act like brother and sister.


But I digress. Back to the Lions Club. No. Not the tigers or the bears. Just Lions. The Lions Club is well known for helping blind people get things that they need, such as canes and eye glasses. They also provide a number of other services for persons with disabilities, including getting large print books for the library and helping people who are financially challenged with eye exams, eyeglasses, hearing aids, wheelchairs, walkers, canes, and other mobility aids. Their biggest project is the annual Special Kids day picnic, which is held during the summer at the Buffalo Launch Club in Grand Island. Several hundred kids and their teachers and aides come, and the kids have a great time on land and on boats. The volunteers have fun watching the kids having fun. I know that because, last year, I was one of the volunteers, and it was fun.


The meeting was held at McMahon's Family Restaurant. This is an historical building because it used to house a place called the "Clown House." Alas, I have no memory of the Clown House but I would have liked to have gone to a house that was full of clowns.


The program that Curt decided to present was to display a bunch of items that were common about one hundred years ago but are now no longer used too often. Then he asked the Lions to identify the objects. Notice that I capitalized Lions. That is because they are members of the Lions Club and not wild animals that tend to roar a lot.
Curt and I arrived at McMahon's Family Restaurant at about six o'clock.



This was my first visit to McMahon's. The interior of the restaurant was quite interesting. It is decorated in something that resembled a 1950s diner. Pretty much, every inch of the restaurant is filled with all sorts of memorabilia. I was glad that I brought a bear to add to the show. It was quite an impressive display of toys and other stuff.
Apparently, 101 Dalmations spawned the creation of quite a few figurines and toys.
Next to the cash register.
Painting on the wall. Notice the cliff and the big drop to the water. I'm not sure where this is located as there are no cliffs in Grand Island.
Curt enjoys a good laugh before the start of the festivities.
Welcoming the Lions to the meeting.
Lion Annette shows off a bottle of wine that was raffled off during the course of the meeting.
Another view of the walls, with loads of memorabilia and paintings.
Before Curt's presentation, we enjoyed a delicious dinner with the Lions. While we indulged in our dessert, the meeting started with Curt's presentation.
Curt gave a brief history of Grand Island and of the Grand Island Historical Society. He said that the Town of Grand Island was incorporated in 1852. In the nineteenth century, big businesses on Grand Island included ice harvesting and logging.
Lewis F. Allen, for whom Allen Street and Allentown in the City of Buffalo were named, was somehow involved with the Whitehaven Settlement in Grand Island. He also owned a farm on the southern tip of Grand Island, called "Allenton Farms." The Whitehaven Settlement was where a massive logging operation was held. There were ten to twelve steam sawmills, staffed by "gangs of men," Curt said.
At the time, clear cutting was seen as acceptable, even if the trees being removed in massive number were trees that grew slowly and could not be easily replaced. Today, we call that "deforestation" and we understand that is a very bad idea. But, back in the nineteenth century, the white oak that covered Grand Island was seen as a resource to be used, rather than as a treasure to be maintained. Grand Island originally had 17,000 acres of white oak. Sixteen thousand acres were logged off, and the trees were turned into mastheads for ships.
The Grand Island Historical Society was founded in 1962 to protect River Lea from being torn down, as were most of the houses that were on land that was taken over by the state. That land became Beaver Island State Park.
Below are some of the objects that Curt brought to the meeting.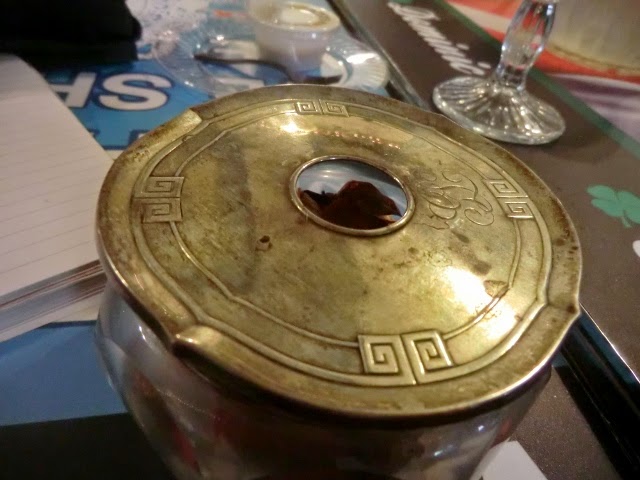 This object is a bed warmer. People in the 19th century did not have central heating in their houses so their beds got cold. The only room that was heated in the winter was the kitchen because that was where the stove was located. Other rooms became cold. With this object, people could feel warm in bed. Of course, there are other ways to feel warm in bed, which was probably why the birth rates in the nineteenth century remained consistently high. Unfortunately, the infant mortality rates were also high. Hence the need to have lots of children (to work on the farm).
People in the nineteenth century were very frugal. According to Curt, "Nothing was wasted. Everything was used." The object above is called hair art. When women brushed their hair, they took the hair out of their brushes and placed the hair into a hair holder. Curt brought one of those to show. When the women had enough hair, they made wreaths with their hair. It is not an art form that is practiced anymore.
This object is called a "tussy mussy." It is used to hold fragrant flowers. Back in the nineteenth century, people did not bathe regularly nor did they do their laundry very often. Neither activity was easy to accomplish. Taking a bath involved setting up a large bathtub in the kitchen, which, as I previously mentioned, was the warmest room in the house. Water had to be brought in as there was no indoor plumbing. The water had to be heated and then poured into the tub. The whole family bathed in the same bath water. The order for the bath was not oldest to youngest, as I had previously thought. The dirtiest person generally went first. The cleanest washed in all of that dirty bath water. Um. Yuck. I am grateful for a nice clean shower!!!! As for the laundry, it was all done by hand and that was a lot of work.
So… people who don't bathe often or do their laundry tend to smell bad. They put the fragrant flowers in their tussy mussy and carried the flowers with them. The flowers were supposed to cover up the body odor.
A closer view of the ornate design of the tussy mussy.
This is a silent butler. It is used to clean up crumbs after a dinner party or to clean out ashtrays.
Other objects that Curt displayed included a stereo opticon, a salt keeper, a holder for tiny pieces of soap (because nothing went to waste), a rug beater, a cherry pitter, a hat holder, and an egg scale.
After our display, the Lions went on with their business meeting. I cleared away the displays and the maps, and we left the Lions to their own devices.
It was a good evening, and the Lions expressed fascination with the objects, as well as with stories about local history.