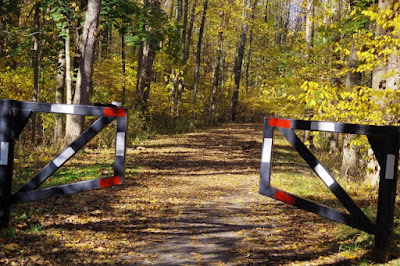 On August 1st, I began my 366-day photography project at Buckhorn Island State Park. It is a wildlife preserve and an important bird area. Many migratory birds come to Buckhorn in the spring and leave in the autumn. Buckhorn Island State Park is a spectacularly beautiful place. It has several types of wetlands, including swamps and marshes. It is located on the Niagara River and is a beautiful place to walk, bicycle, kayak, canoe, and to take your dog.
I enjoyed my walk in August so much that I decided to take pictures of Buckhorn Island State Park in each season.
On Monday, October 26th, I returned to Buckhorn Island State Park to take autumn photographs. The trees had changed color and many of the leaves had fallen to the ground. There were so many leaves on the ground that walking on them felt like walking on a carpet of leaves. Some were colorful and soft, while others were brittle brown.
Some of the trees had already lost all of their leaves.
The shapes of the branches are beautiful.
A large yellow leaf sits on a bed of brittle brown leaf material.
It's almost as if someone took a paintbrush and began coloring the leaves, one by one.
Autumn, however, is bittersweet. The colors are spectacular, but the days grow shorter and winter is coming.
On the other side of the river is Niagara Falls, New York. I believe that this is Cayuga Island, part of the LaSalle area.
Here is another view of Niagara Falls.
Buckhorn Island State Park has a very spectacular marsh. The tall grasses are now brown, but still lush.
There is a small bridge over the marsh. Frequently, people sit at the edge and fish from the bridge.
The marsh empties into the Niagara River.
On a clear day, it is possible to see the foam rising from Niagara Falls.
Small island in the Niagara River.
This is one of the two north Grand Island bridges. It connects Grand Island with Niagara Falls, New York. When the Grand Island bridges were first built, in the mid-1930s, there was one bridge to Niagara Falls and another bridge at the southern part of Grand Island to Tonawanda, New York. In the early 1960s, each bridge received a companion span.
This is a very long bridge.
The underneath view of the bridge.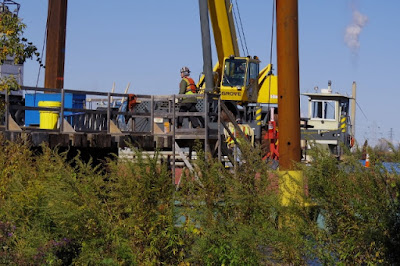 There is a work crew near the bridge, but I'm not sure what they are doing.
They have all sorts of stuff.
Conference in progress.
Along the bike path in Buckhorn, you can see small bridges made of stone. The view of the wetlands with the bridge framing it is beautiful.
A bench, a fence, and a view.
Mmm, time for a snack.
This is the marsh, as seen from the road.
I hope that you've enjoyed your autumn tour of Buckhorn Island State Park. In a few months, I will share the winter journey with you.