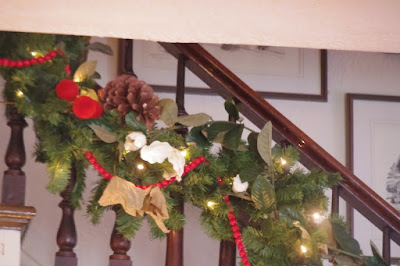 On Friday, December 2nd, I went to the Grand Island Historical Society's holiday luncheon at River Lea. The house was decorated in a Williamsburg style. It looked very Christmasy and quite delightful. It was definitely enough to get you in the Christmas spirit, if only for the amount of time that you were at River Lea. On the second floor, there was a country market in the library. Things for sale were made by society members and included cookies, jams, jellies, cloth tissue holders, quilted potholders, and more.
Downstairs, luncheon was served by ladies in nineteenth century outfits. Here is Maggie, who served tea in this lovely silver teapot. It is a special blend of tea, called "Maisie's tea." I brought a little honey with me so that I could truly enjoy the tea. At the table where I was sitting, nearly everyone was a tea drinker. Usually, when I go to events, I am surrounded by coffee drinkers. This time, the tea drinkers dominated. In addition to tea, we also had a green salad and a choice of quick breads. I chose the pumpkin bread, and it was quite delicious.
This is the meal that we were served: chicken cordon bleu with carrots, broccoli, cauliflower, and noodles. It was prepared very nicely by the caterers and was presented in a lovely way on the plate.
And, of course, there was dessert. That was a very nice treat. It looked pretty and it tasted even better.
After dessert, it was time for the presentation by Nancy LaChiusa and Denise Voelker. Nancy said that she started in the world of miniatures when she joined a dollhouse club. She now belongs to two different dollhouse clubs. The people who design the little worlds are called miniaturists. Miniaturists are people who make, collect, or specialize in miniature objects, such as tiny dollhouse rooms. Many miniaturists, Nancy said, actually create an entire story about their structure before they furnish their rooms. As an example, one story was about a tiny rowhouse that was created in a box. On the first floor, there is a bar, with sailors as the clientele. The second story is occupied by empty nesters, who like traditional furniture. The third story is occupied by young people, who prefer modern furniture. The roof has been dedicated as a green space so a garden was placed on the roof.
Nancy also showed off a medieval castle, with stone walls decorated by tapestries. In the great room, the king and queen sat at tables with chairs. Everyone else sat on benches
According to Nancy, dollhouse designers work in various sizes. The largest size would be a one inch scale. That means that one inch in the dollhouse would equal one foot in the "real world." That is actually considered fairly big and storage of the houses could be a problem. The tiniest of the little worlds would be placed in matchboxes. Nancy showed off a school house scene that was done in a matchbox.
Nancy and Denise brought a collection of boxes, bags, and other assorted objects that are used in displaying tiny worlds. One of the objects was originally a CD cabinet. In each compartment is a different room. The scale for that is one-half inch in the little rooms are the equivalent of one foot in the "real world."
Here are two of the rooms in the former CD case. They look very realistic, with wall paper, cabinets, a chandelier, and more. They are complete tiny rooms.
You can build your miniature world in any kind of architectural style. This one is a Tudor style. Originally, the structure was supposed to be an all-brick Victorian, but "there weren't enough bricks," Nancy said. Another popular house style is the Queen Anne Victorian structure. This is a style that is found at the Chautauqua Institution.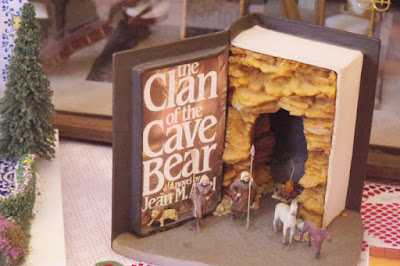 Another type of miniature is the book miniature. Here we have The Clan of the Cave Bear, by Jean M. Auel. It is the first in the "Earth's Children" series, set in prehistoric times. The "book" is actually a reproduction of a real book. As you can see, the inside of the book has been designed to look like a cave. The people on the outside are Ayla and Jondalar. They have animals with them. Ayla, a Cro-Magnon who was raised by Neanderthals, is a healer. She also has an unusual affinity for horses and wolves and is able to communicate with them. "Earth's Children" is a great series of books, and it was delightful to see how Nancy depicted this story.
This is an interesting little courtyard.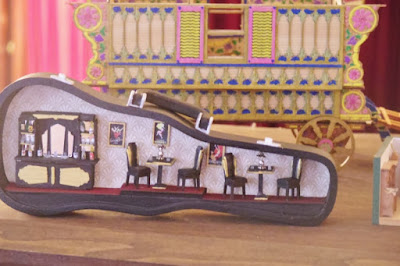 In this violin case, you can see an entire 1920s speakeasy. Nancy and Denise went to a conference in Greenville, North Carolina. The theme of that conference was "guys, gals, and Gatsby." The time period is Prohibition and the style is art deco. The scene is complete with paintings on the wall and with little liquor bottles.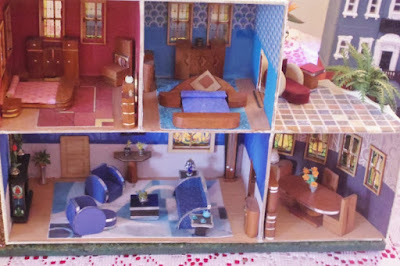 Here is an entire home in a small box.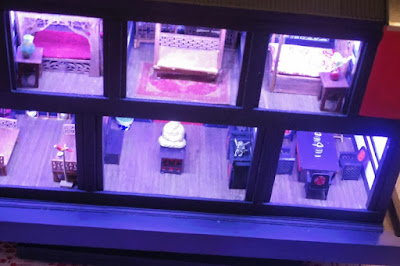 On the left is Denise Voelker and, next to her, is Nancy LaChiusa, who truly love their miniature worlds. It does look like a fun way to use your imagination and create tiny worlds in the most improbably of spaces.