Today, Lee, Jean, and I went to eat at the Amherst Buffet. The restaurant is in a commercial area in Amherst, New York. The address is 1551 Niagara Falls Boulevard, in
Amherst, New York, in the Burlington Plaza. It is a place where you could shop 'til you drop. You could race from store to store, buying books, clothing, food, art supplies, and more. And you can eat. The Amherst Buffet blends in with the rest of the shopping plaza's appearance. Inside, the restaurant was very large but very minimally decorated. The restaurant was very busy, with a good sized lunch crowd.


We went to enjoy the luncheon buffet. For less than ten dollars each, we got as much Chinese food as we could ever hope to eat in one meal. The selection was quite impressive.
So many dishes from which to choose! There were soups, fish, meat, and vegetable dishes.
I think that the cod and the salmon, which were tender and delicately flavored, were my favorite dishes, while the hot and sour soup was good but too spicy for my tastes.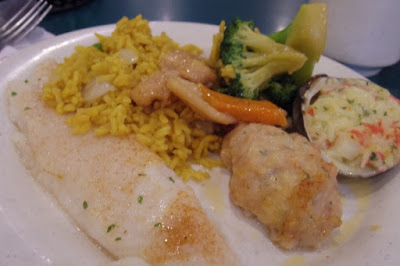 One thing that I didn't try, however, was the Mongolian barbeque, so I'll have to go back and experience that food selection.


I would definitely recommend the Amherst Buffet for the reasonable price and the great selection of food, to appeal to any taste.