I have a special fondness for teddy bears. I've kept teddy bears since I was a little girl. I had them for comfort and for softness and for friendship when I was lonely. As an adult, I still keep my teddy bears. I still keep them for comfort and softness and friendship. I also keep them for story telling. I can take pictures of them in a variety of locations and tell their stories.
In this series of stories and photographs, Ginger Bear will share her adventure in Oregon. I brought Ginger Bear to Oregon with me.
Unfortunately, Ginger Bear is no longer with me.
She and I became separated while I was walking in Chicago, at the beginning of the "On the Road to Ground the Drones" walk from Chicago to Battle Creek, Michigan, back in June. I hope that Ginger Bear has a happy home with a little boy or girl. Since then, I have had new bears enter my world, and they are also well photographed. Eventually, I will combine all of these bear photographs into a book for my two great-nieces, Claire Elisabeth (who will be three in January), and Adelise Noel (who will be a year old next week).
So here is Ginger Bear's story:
Here I am in Tumalo Falls.
My human loves to place me in all sorts of spots, if she thinks it will make a picture.
I am here, next to the waterfalls. My human is helping me not go over the edge because that's the kind of human she is.
This is a really cool stone. It looks as if someone tried to build a staircase out of and abruptly gave up.
My human and her friend Betsy walked and walked and walked until they hit a patch of snow, which caused my human to slip.
I love exploring the west. It is very exciting for a little bear.
Oh, darn. If I had brought my cross country skis or my snowshoes, I could really be having a fun time just about now. But who thinks about snow at the end of April?
I think that I am getting more and more interested in geology because I love all of these rocks. My human just thinks that they are nice for posing a bear.
Still at Tumalo Falls.
Should I go in for a swim now? The human placed me away from the water because she didn't want me to jump in. She said something about it being cold and me catching cold and sneezing or something like that.
Maybe I should look for land snails.
Or be the Queen of the Hill.
I am loving these rock formations.
Wheeeeeeee!
After the trees fall, the logs make a nice seat for a little bear.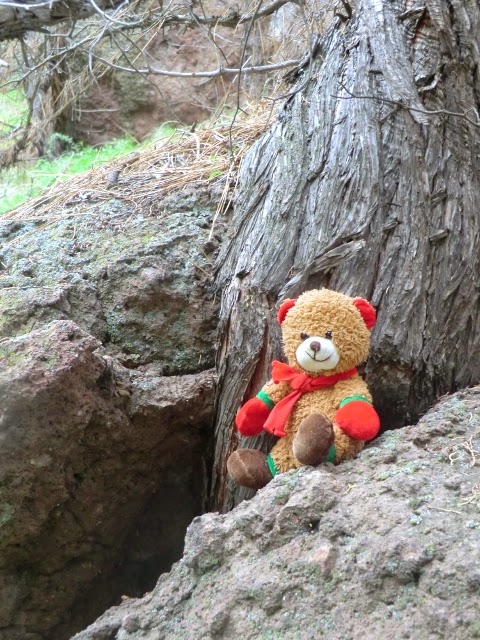 I'm enjoying my hike and wish that it could last forever.
This Ponderosa pine has been here for a long time, maybe centuries. I wonder what stories it has to tell.
In every hike, there is always some sort of tripping hazard.
On another day, I went with my human Alice and her friend Philip to visit Smith Rock, a really interesting rock formation. People come from all over the world to do rock climbing here.
I rode here in Philip's car and thought that I could look cool by sitting on the car. Now if I only had a cool pair of sunglasses…
On still another day, I went with my human Alice and her friends Betsy and Ann to the seashore. We found seashells, which were pretty.
Here I am exploring a cavern. It seems like a good place for a Bearish Tea Party.
We stayed at a motel, which was a lot like a bed and breakfast. We got a delicious breakfast of crepe, with fresh strawberries… but that darn human… she ate it all!!!
I bask in the redness of the flowers. Despite the snow, it really is spring.
The world is my oyster, even if I don't have the shell.
The room that I shared with my human at the coast.
The room that I shared with my human at the Historic Anchor Inn was decorated in a jungle theme. Each room had a different theme. I enjoyed the lions and tigers and… bears(??)… wait a second. I'm not scary, am I?
The Pacific Ocean when the sun is getting ready to set. My human and I loved watching the sun set over the water.
Hey! My human looks just like her (except with more clothing!)
I already gave up the dream of being a geologist. Being a sailor would be so much more fun. Ahoy, matey!
A sailor's life isn't complete without a new friend or two.
Or maybe I will be a writer and will write the history of the world, after my epic sailing journey is complete.
After we left the seashore, we visited the Oregon Gardens in Silverton, Oregon. It is an 80-acre botanical garden, which includes more than 20 specialty gardens that show off the biodiversity of the Pacific northwest. You can imagine that the human tried to pose me in all sorts of places here!
I could be a bear model. I love posing!
Hmm, not sure where I am. This could be where the human got lost (humans are silly. all they need to do is to follow the scent of the delicious honey).
Relaxing on a butterfly bench.
Life is good. I still need to look cool with sunglasses.
The human got ice cream and all I got was a bit of water in a paper cup? What's with that???