I live on an island in the Niagara River. It is close to Niagara Falls, New York; Niagara Falls, Ontario; Tonawanda, New York, and Buffalo, New York. It is the largest island in the river. Other islands include Strawberry Island, Motor Island, Navy Island, Beaver Island, and Frog Island. Some of these islands are in the process of being restored. Strawberry Island nearly disappeared entirely after extensive mining of gravel and sand back in the early part of the twentieth century. Other islands suffered in similar ways. These small islands can only be visited via canoe or kayak during the restoration process.

Grand Island is a big island, shaped like a pork chop. It is a gem in the Niagara River.

One day, I walked in a circle around the circumference of Grand Island. I think that it is approximately 22 miles. That was a lot of walking. I walked along the river for much of the way. For the most part, it was a beautiful walk.

Grand Island has a series of creeks, all of which are tributaries of the Niagara River. They include Woods Creek, Spicer Creek, Gun Creek, Six Mile Creek, and Burnt Ship Creek. People enjoy kayaking in these creeks.

For me, it is the creeks and the proximity to the river that make Grand Island special.

Below are a series of images of Grand Island. I focus on the environment, as well as some human activities.
This is the marsh in Buckhorn Island State Park that links directly with the river. In the springtime, it is full of vivid color.
Bridge over the Buckhorn Island marsh.
Bridge to Niagara Falls.
This is the wetlands of Buckhorn Island State Nature Preserve in summer.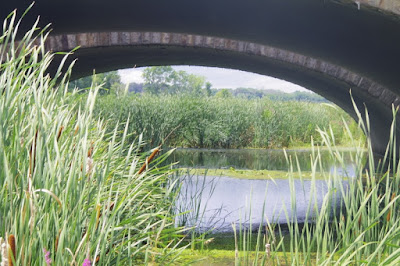 This is another view of the marsh in Buckhorn Island State Park.
This is the view of the marsh from the road. It is close to a kayaking and canoeing launching site.
This is a view from Beaver Island State Park. I joined a group there for a painting class with professional artist Terry Klaaren. He lived in Grand Island when he was young but he has lived in Florida for a long time. He comes back occasionally to teach plein air (outdoor) art classes and to paint murals.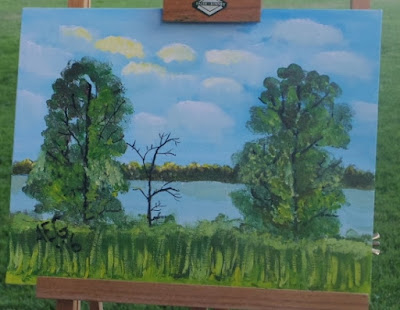 This is the painting that I made at Beaver Island State Park on July 1st.
Nighttime in Grand Island is kind of scary for me as a pedestrian because it is so dark and there aren't many sidewalks. Sometimes, I get a chance to visit the river after dark. This is a view of the moon over the east river. I had a little fun with an online photo editor to get this greenish glow.
Sunsets over the west river can be quite spectacular.
Winter brings a stark beauty to the river. I take the pictures in black and white to show off both the shadows and the highlights. The river is quiet and the boats have been put away. The river is a sleeping beauty in the winter.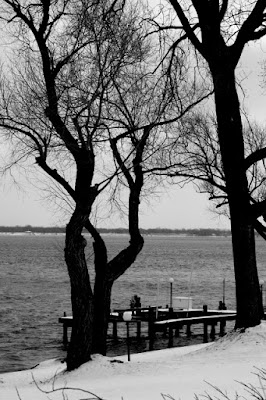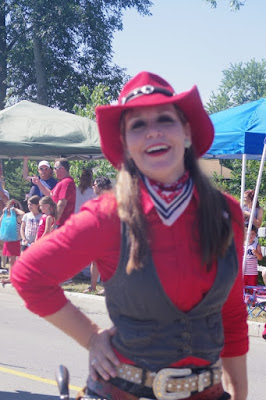 The summer is celebrated in Grand Island. Here are some scenes from the Independence Day parade.
Paddles Up! is another celebration of summer that occurs at Beaver Island State Park. It is a noncompetitive paddleboat activity that occurs every July. This year, an eco tour was added. People who participated had the opportunity to go to Strawberry and Motor Islands via kayak or canoe. It was very popular. Next year, there will be two guides and opportunities for more people to participate in the eco tour. I am hoping to join the group and to share my pictures. Look for that next July!
This man is dressed in a French Voyager outfit of the eighteenth century. The voyagers were part of the fur trade of Montreal. They traveled across the Saint Lawrence Seaway, into the Great Lakes, and then headed north to trade various goods that they brought for furs, which were sold in Europe.
Paddles up! Ready to get on the water.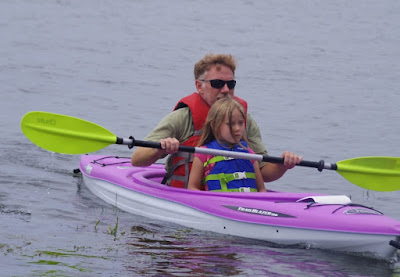 Garden walk is another July event that celebrated the beautiful gardens of Grand Island. Homeowners opened up their gardens to the public so that we could see the beauty and diversity of Grand Island's gardens.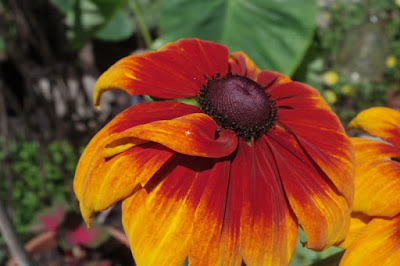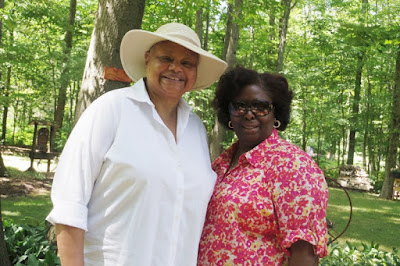 Eloise (in the red flowered shirt) and her friend enjoy the gorgeous day and the lovely gardens.
Some of the gardens made you feel as if you were visiting another world.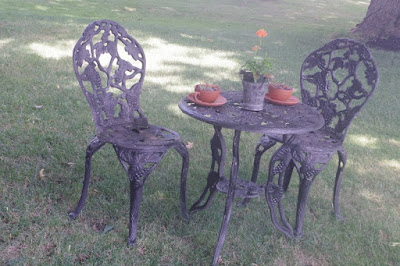 A peaceful place to relax and get away from a busy life.
This is the view from one of the gardens. This is also a lovely place to relax and let the tiredness of a busy day disappear gently.
Elements of a Japanese garden.
Then there is River Lea. It is the headquarters of the Grand Island Historical Society. The house was built by W. Cleveland Allen, the son of Lewis F. Allen. It was based on Lewis F. Allen's design in his book on rural architecture. Lewis F. Allen had a farm in the southern tip of Grand Island in the nineteenth century, called Allenton Farms. He was well known in Buffalo as a political leader and as a farmer. Allentown in Buffalo is named for him.

Mr. Allen persuaded his nephew, who was called "Big Steve" as a young man, to live in Buffalo and to work for him. Big Steve helped his uncle at Allenton Farms. Eventually, Big Steve read the law and became an attorney. He got into politics, but, unfortunate, he and his uncle disagreed and they became estranged. Eventually, Big Steve changed his name to "Grover Cleveland" and was noted for being the only president to serve two nonconsecutive terms.
This is River Lea. It used to have a porch but, unfortunately, that burned. There are plans underway for the porch to be restored.

Well, that's it. I hope that you've enjoyed your photographic tour of Grand Island! Come visit our two beautiful state parks some time! There are plenty of other things to enjoy here.

What is special about your hometown?