The topic for week 31 of the 52-week photography project is "frame within a frame." It's a picture within a picture. The Dogwood photography studio describes it as "a classic compositional tool to frame the subject within the frame of the image."


I originally learned about framing the shot as a compositional tool when I joined a "photo safari" class in Washington, D.C., during the cherry festival in 2013. The frame could be such things as windows, doors, arches, and overhanging branches.


Here are some of my images from the past week:


On Thursday, August 31st, I was at the U.S. Army Corps of Engineers' press conference at Unity Island. The topic of the press conference was work that is being done to restore the ecosystem of Unity Island, which had been compromised by the presence of an incineration plant between 1938 and the late 1990s. The photograph is a view of Canada from Unity Island.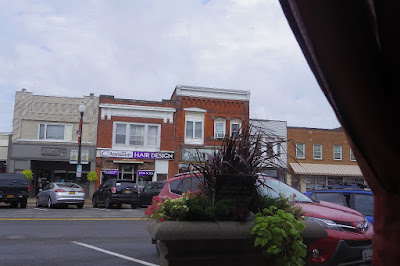 On Sunday, September 3rd, I rode a ferry from Grand Island to Tonawanda, operated by Niagara River Cruises. The first thing that I did was to go to Lou's in North Tonawanda for breakfast. This is the view of Webster Street from inside the restaurant.
This is the bridge that links the City of Tonawanda with North Tonawanda.
After the ferry trip, I went to June and Roger's Labor Day picnic on the west side of the Grand Island. Here's a view of the Niagara River.
On Tuesday, September 5th, I went to Zumba at the Grand Island Dance Center. The balloon was from a celebration of the dance studio's grand reopening. The dance studio was completely remodeled, with the walls being painted, the ceiling lifted, and a new dance floor installed.
On Wednesday, September 6th, I went to the 755 for lunch with Jean and Lee. The 755 is a Lebanese restaurant in the Old Market area of Niagara Falls, near Pine Avenue. We shared a sampler platter, which featured a large variety of delicious Lebanese foods. Afterward, we went to the nearby farmers market. This is a view of the surrounding area from the farmers market.
Next week: The adventure in photography continues.