Note: On August 1st, 2015, I started on a 366-day photography project. Every day for a year, I am committed to taking at least one photograph. I am now in my last month of the project. It has been an amazing adventure in documenting my world. Some of the things that I have taken pictures of have been pieces of photojournalism that were taken on assignment for the local weekly newspaper, while others have represented the small parts of life that don't normally get documented. I've shared pictures of my art and even pictures of food that I've cooked.
I've photographed through four seasons. I've learned to see the everyday world as beautiful and as having its own stories that are worthy of being told. I've learned that I don't have to travel far to find stories. Everyone and everything has a unique story, worthy of being shared. Above is Zoe, age 16, who enjoys watching the outside world. But she doesn't want to be part of it. When the door is opened, she runs in the other direction. She appreciates the safety and familiarity of home.
I can appreciate Zoe's approach to life. A good home, a loving and doting family, and a food bowl that's always full. But I have too much wanderlust for that. I need to venture out into the world, to greet nature, to meet new friends, to explore as much as possible. I originally became a journalist because it's nice to get paid for being nosy and for doing something different and interesting every day. Unfortunately, journalism has not provided me with the stable career that I was hoping for. I've I've had to scramble to find my place in the world. That has been very difficult for me. In the process, however, I've discovered that I can live with a bit of instability. I've learned how to take care of gardens, babysit, and do the occasional pet sitting job, as well. I've learned that I have to adapt to a changing world and that I must never give up.
Here is my sister, Diane. She loves reading her Nook. She borrows books from the library electronically. She never runs out of things to read.
On Sunday afternoon, I went to Riverside-Salem Environmental Chapel for an outdoor concert that featured Nan Hoffman, Kathy DeLoughry, and friends. It was a warm, sunny day, a good day for an outdoor concert. Above is Carol Alt, who was in charge of CD sales.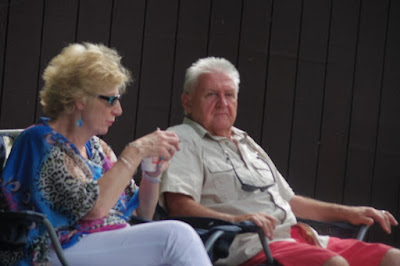 People enjoy listening to the music and occasionally singing along.
Kathy focuses on singing.
The microphones are arranged just right, but there still seems to be some feedback noise. Fortunately, that was later resolved.
There are a whole variety of rhythm instruments to be played.
Here is a very interesting rhythm instrument.
Nan Hoffman enjoys playing two rhythm instruments simultaneously!
This instrument is quite amazing to see and to hear!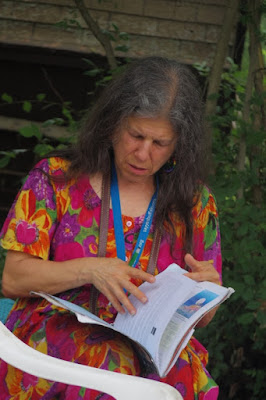 Vicki Ross is the executive director of the Western New York Peace Center. Last summer, she led a really wonderful workshop on connecting to your animal spirit at Riverside-Salem. That occurred a few months after her precious border collie, Tara, passed away. Tara had been a regular visitor at Riverside-Salem and was very adept at herding the humans. Vicki has since adopted Pip, a black Labrador retriever. Pip (short for Pippi Longstocking) was Dave Baker's canine companion. After Dave suffered a stroke, Vicki became Pip's foster mom. Unfortunately, Dave passed away. He is missed. Pip has a good, loving home with Vicki.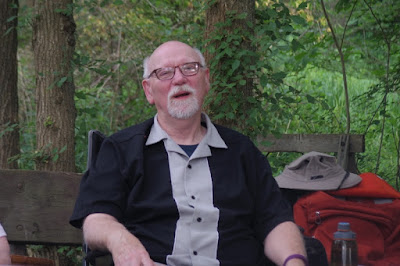 This is Jon Rieley-Goddard. He and his wife Cathy are co-pastors of the Riverside-Salem Environmental Chapel. Last year, they walked 400 miles of the 500-mile spiritual walk (El Camino) that starts in France and ends in Spain. They described it as being a good experience for them, though a bit hard on their feet. I have already put El Camino on my bucket list!
Val enjoys the music and the companionship of the Riverside-Salem community.
Suzanne focuses on the lyrics.
Lee Tetkowski is a textile artist and a retired art teacher. She works on looms in her house and creates beautifully complicated patterns.
Fun with friends.
This is Chuck Culhane. He is happily enjoying the music, as well as his coffee. Later on, he also enjoyed food. The concert was followed by a potluck dinner. People brought in a great variety of delicious foods.
On Monday, I was back in a garden, ready to do battle with weeds!! This is a hosta that has bloomed.
Seen in the garden.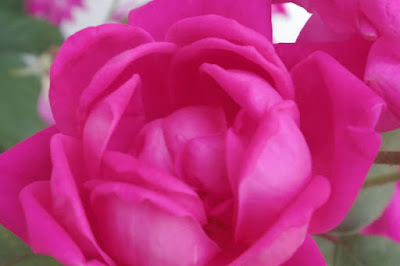 The roses continue to bloom.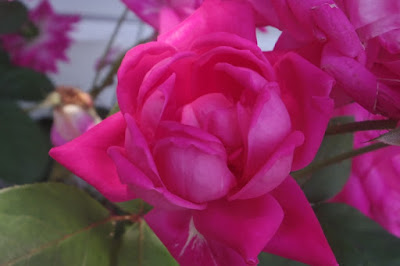 This is a beautiful shade of clematis.
Another clematis. Another color.
There really is something that is very spiritual about gardening. Taking care of a garden is a service to a customer and a mission in giving love and attention to the earth, our home and the source of our lives.
On Tuesday morning, I was busy at a garden along the river. I got a good view of the Grand Island bridges from the vantage point of the garden.
As I was trying to get a good view of the bridge (and not totally succeeding), I noticed a group of bicycles!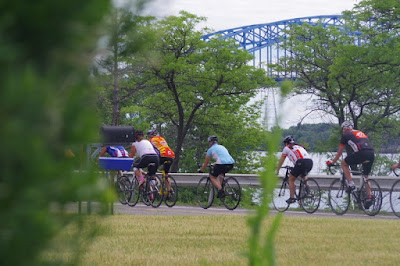 The bicyclists passed by as I frantically snapped pictures. It was just a moment and then the bicycles were gone. I returned to digging the weeds, happy that I had managed to capture that moment of life on the river.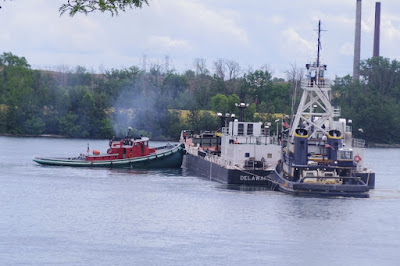 After a while, I saw this! I'd been taking pictures, on occasion, of people at work. I couldn't see individuals but this must show many people at work. It was quite fascinating to me to see the large ship pushing along the barge.
This is another view.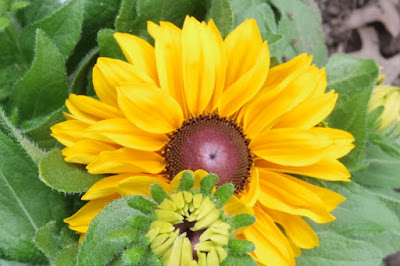 At another garden, I planted some black eyed susans, coneflowers, and shasta daisies.
Seen on the side of the road. A fly busily enjoying some Queen Anne's lace. I do not have any objection to flies, as long as they stay outside. Inside the house… um… no…
An apartment building for birds.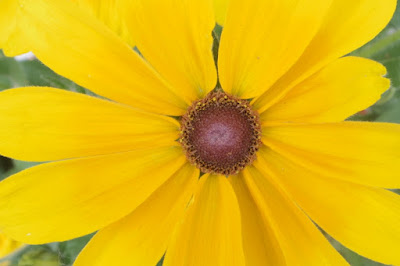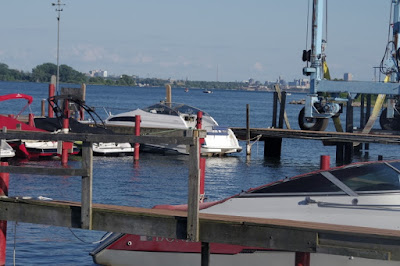 Here are some views of the fishing station, located at the southern end of Grand Island.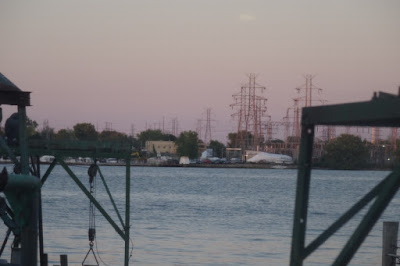 On Thursday, I went to dig weeds from a raised bed at a small farm. Here is one of the roosters. He is very satisfied with his appearance and is quite thrilled to be able to show off his handsome feathers to a human.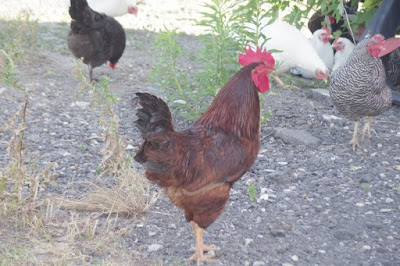 Here is one of the babies that are living in the chicken coop. There are about 150 baby chickens. They make a sound that sounds like a cross between a peep and a chirp. Eventually, they will learn to say "bok, bok, bok" or, if they are roosters, to wake the neighbors with a good, loud crowing session.
Frog in the garden. Nice and big. Quite patient with the photography session. Very good at posing.
This is the back of the barn.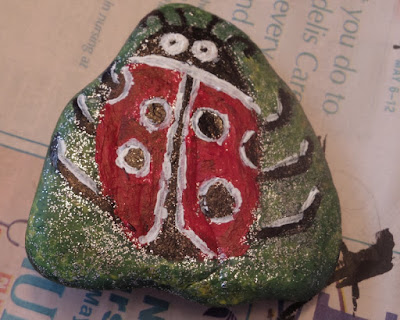 On Friday, I had planned to walk thirteen miles to Beaver Island State Park but, alas, it rained, and my camera doesn't like rain. So I stayed at home and painted a rock instead. The rock still needs to be sprayed so that it can be put outside to decorate a garden.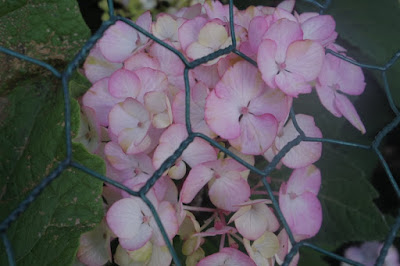 Later in the day, I went to River Lea, via truck. I went there for a painting class with Terry Klaaren. The last time that he was in Grand Island to do art with folks here was in 2013. I took another painting class with him and painted a Beaver Island scene. This class was yet another plein air painting class. Plein air is a French term that means painting outside. Fortunately, the rainfall stopped and the weather was good for painting.
I stood at an easel and painted, with acrylic paint. That was a great deal of fun. My usual medium is watercolor and you really can't stand a watercolor painting up on an easel, or the paint will drip dramatically, which would cause me to utter inappropriate words.
This is a view of the river from River Lea.
On Saturday morning, I became part of the Grand Island Guardians, organized by Town Supervisor Nate McMurray and his assistant, Cyndy Montana. We cleaned up Grand Island Boulevard so that it would look nice for the Independence Day parade. Above, Nate and his son Moses search for rubbish amongst the tall grasses.
Father and son adventure.
People came from various organizations to help with the project,including the Kiwanis and the Lions Club.
Lots of unsightly litter was collected and placed in a dumpster at town hall.

Next week: Buffalo Bisons game with the Buffalo Philharmonic Orchestra and Chorus and fireworks, the Independence Day parade and more! To paraphrase the "rule" about voting: feel free to visit early and often.