It's spring at last.


These determined crocuses
grow through snow early
in the growing season.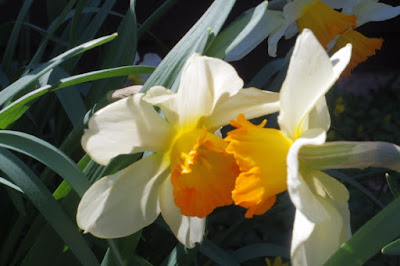 The romance of the daffodils
When I think of all of problems in this world that were created by humans, I feel sad. I am horrified by the violence and by the meanness and by the prejudice. Then I go outside and am confronted by beauty, which gives me hope. I see the baby leaves, popping from formerly bare tree branches.


Early in the spring, the leaves feel and look like flowers. They are soft and
translucent. It feels miraculous.

Hyacinths come in a wide variety of colors.
Spring is my favorite season because it is colorful and soft. The harshness of winter chill has departed. The air smell sweet, and the birdsongs can be heard early in the morning.


Buttercups look like little rays
of sunshine growing from the ground.
Every day, there is something new to explore. Another flower has opened. I can see the progress of the peonies as their stems grow taller. I watch the buds on the trees grow fuller, as they swell to popping open.


T is for tulips
Spring is an adventure and an exploration into the world of color and light.


What's your favorite season and why? Tell me in the comments section below.