On Saturday, I went to Niagara Falls to see it covered in ice. My friend Eric joined me. We walked along the falls and saw the ice near the water that was falling over the edge.


Then we went to Three Sisters Island, where the river and the wetlands were filled with ice.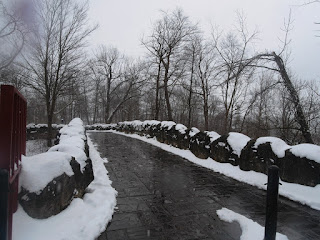 The water was rushing and swirling. Eric, who is an engineer, was impressed with the power of the water as it raced toward the cataracts. The water was bubbling and churning amidst blocks of ice that had formed. It was amazing. We watched in wonder.


Later, I was motivated to write these haikus:


ice crystals fill the river
Nik Wallenda walked over Niagara Falls on a tightrope!
rushes past solid ice chunks