Today's blogging challenge has to do with offering advice. Usually, I am reluctant to offer advice, even if people ask for it. That is because the things that work for me may not work as well for someone else. And who likes bad advice?
Nevertheless, I'm going to offer this piece of advice. If it works for you, great! If it doesn't, it's an experience not to be repeated. And yes, learning from failure is a thing.

That's because FAIL is an acronym, not a word. FAIL stands for First Attempts In Learning. That's not something that we know right away because, going through school, we become conditioned to avoid failure. There's nothing worse than an F on a report card, right? Well, maybe an F-minus, which would be insult added to injury (You failed and you did it in a Very Dramatic Way).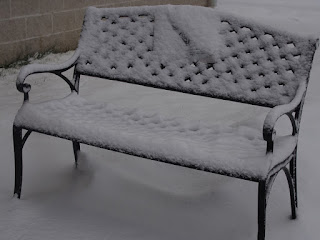 That doesn't really make sense, however. You're going to fail a test if your score is 60 percent or lower. But 60 percent means that you got more than half of the answers correct. Yes, you've made a first attempt in learning. But should you be squashed like a bug because you tried and did not succeed? Think about baseball. If your batting average is .3000, you are considered to be a big success. That means that you got to base in 30 percent of your times at bat. Think about that. Thirty percent. What is a dismal failure in a test is a stellar success for a batter in a baseball game. A professional baseball game.

Baseball players make every effort each time they go to bat. And that's what it's all about. Making the effort, even if the chances are more than 50 percent that you will not succeed at whatever you're trying to do. On the other hand, if you give up, your chances of success go to zero percent.

Now, I know that you're saying, but, Alice, you may love baseball, but you're not a baseball player! Tell me about something that you did that, at first, resulted in failure. Sure. When I first took my road test, I was not ready for it. I made just about every driving mistake possible. And I failed. It was a first attempt in learning, for sure. I took the road test a second time. And failed. The third time, however, was the charm. I had learned from my previous two disastrous tests, and, this time, I passed my test and won a driver's license.


So my advice, for whatever it's worth, is don't give up, even if you've failed over and over again. You can do what you want and you are not defined by your failures. Go ahead and follow your dreams, even if you find that there are many First Attempts In Learning. Remember that giving up is not an option. Life is an adventure and a few bumps in the road are just part of that adventure.