My weekend in Cleveland is over, and I am back at home. It was a good experience. It was too cold to get much outdoor time so all of the pictures were taken inside. Below is my weekend in images.
Friday
Bear and I hopped on a Greyhound bus. It was approximately a four hour ride from downtown Buffalo to downtown Cleveland. We looked out the window, even though it was nighttime and there was very little to see. Bear got photographed in the window of the bus.
It seems that Bear is ready for a good nap. Bear slept for the whole trip. We arrived in Cleveland at 10:30 p.m. Bear was more tired than Human, and Bear insisted on staying in bed all weekend!
Saturday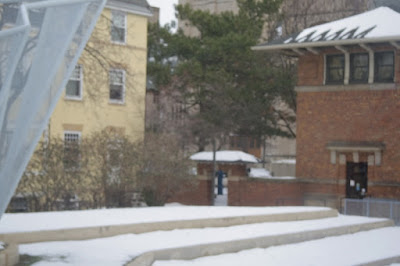 Maria and I rode two buses to get to Case Western Reserve University, where we attended the Social Justice Teach-in.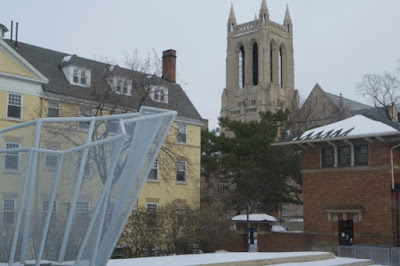 View of a bit of the university from inside.
This picture was taken upstairs in the same building.
Charlie and Maria.
Another view at Case Western Reserve.
For dinner, we went to La Pupuseria, a Cleveland restaurant that serves both Salvadoran and Colombian food. There were seven of us at dinner. We had a fun time and energetic conversations about current events.
Sunday
Charlie is the pastor of North Presbyterian Church in Cleveland. North Presbyterian Church was, for 125 years, a big brick and stone church. The building, a Gothic revival/Romanesque revival structure, is on the National Register of Historic Places. The building was expensive to maintain, and the congregation was very small and without financial means to maintain the structure. In 2012, the church closed. The church has been moved to a former glove factory that was remodeled. That building is shared with Lutheran Metropolitan Ministry and the Presbytery of the Western Reserve. The mission of this combined group is social service: to support the homeless and the urban poor.

Charlie has been the pastor of North Presbyterian Church for twelve years.
Mixed media image at North Presbyterian Church.
Musical rehearsal before the church service.
Image of the Last Supper. Jesus and the disciples.
The Madonna and the Infant Jesus.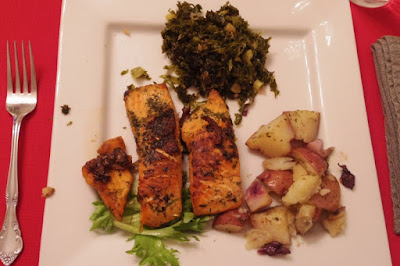 On Sunday evening, Maria cooked a scrumptious dinner, which she arranged beautifully on the plate. Presentation is everything! It tasted as good as it looks!
For dessert, we had a most lovely and delicious variety of cheeses.

Life is good. I am grateful to Maria and Charlie for their hospitality. I am looking forward to another visit to Cleveland, some time in the spring, when we can have an outdoor adventure! Plus, maybe Bear won't be as sleepy and will be willing to pose for more pictures!