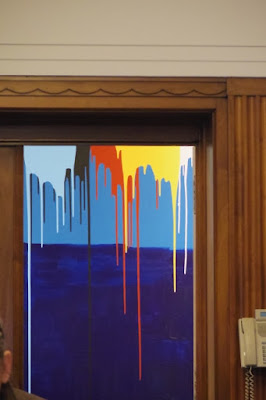 Today, I had the opportunity to visit the old Erie County Hall for a meeting of the county legislature's Energy and Environment Committee. I went to the meeting with a group of farmers from Grand Island. These farmers had applied to be included in an agricultural district. If the farmers are included in the agricultural district, they will be protected by the state from "unreasonable local ordinances."

The Erie County Legislature will vote next week to either recommend or to deny recommendation to a large group of Erie County farms that applied this year for inclusion in the agricultural district. Farms that are included in the agricultural district will then be certified by the state for eight years.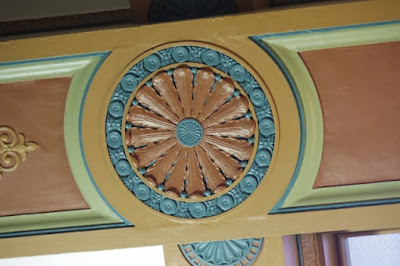 There are many benefits to having farms in all sorts of communities, from cities to countryside. One of the benefits is that people are closer to their food source. The closer you are to the farm that produced the food, the fresher the food is when it goes on your table. Fresher food is healthier, tastier food. Another benefit is that the "middleman" is eliminated. You buy food directly from the farmer. You can visit the farm. In a community such as Grand Island, the farms are smaller and are owned by individual farmers or by families. You can get to know the people who provide your food for you.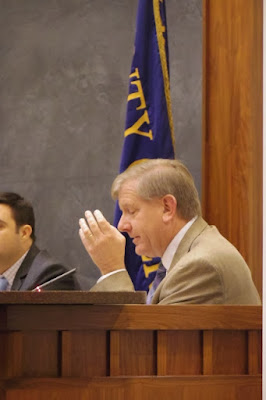 Above, County Legislator Kevin Hardwick talks about agriculture in Grand Island.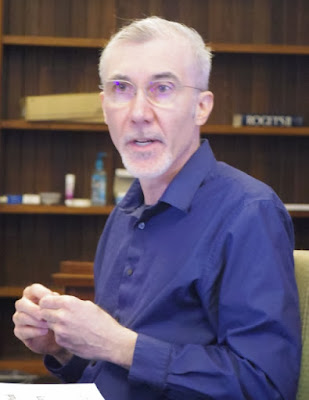 Farmer Keith Tripi addresses the Energy and Environment Committee.
Discussion about farms in Erie County continues at an informal session after the conclusion of the committee meeting. The informal get-together was arranged by Kevin Hardwick. Next to him is Thomas Dearing, who is the Commissioner of the Erie County Department of Environment and Planning.
Farms also help the economy of the community. Farmers markets can be established in towns. Many products can be sold in the farmers markets. Here, those products would include garlic, tomatoes, peppers, squash, pumpkins, eggs, maple syrup, honey, and more.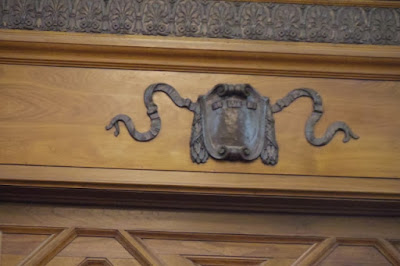 After the meeting was over, I had the chance to look at a bit of the building. The Old Erie County Hall was designed by architect Andrew J. Warner and was constructed between 1872 and 1875. The style of the building was high Victorian Gothic. It is one of very few buildings in downtown Buffalo of that architectural style. It is on the National Register of Historic Places.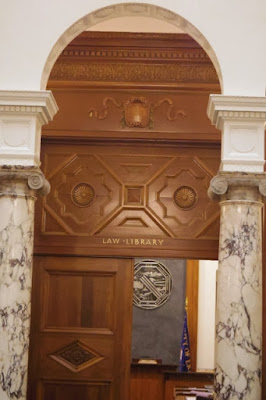 High Victorian Gothic was a popular architectural style in the 1870s for civic, commercial, and religious structures. It was rarely used for residential structures. The former post office (now Erie Community College city campus) is also described as "high Victorian Gothic."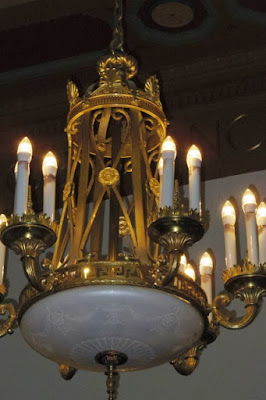 Even the light fixtures are fascinating in the Erie County Hall. One of these days, I'll go back to explore more of the building.