Last year, when I was doing the 366-day photography project, I accepted a "challenge within a challenge." That challenge was to document an entire day with photographs and, the next day, share the story and pictures of that day in my blog. It turned out to be a lot of fun, so I decided to repeat it. Yesterday was the day. Here is my Sunday story.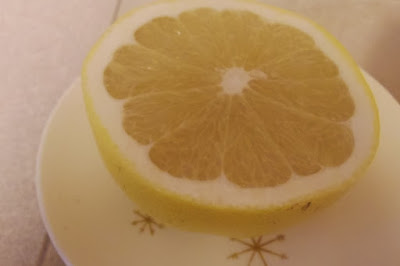 It has been a long time since we have enjoyed a sweet and delicious white grapefruit. They are in season from November until March. It was a very tasty way to start the day.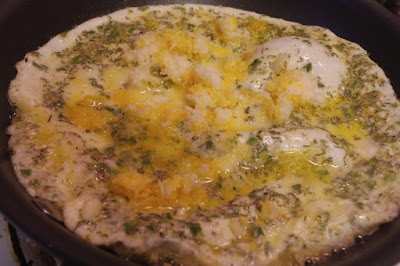 There's nothing like starting the day off with a nutritious, delicious breakfast. For my mother, I made an omelet. She likes her omelets made with liquid egg whites, rather than the whole egg, and grated cheddar cheese. Here is the omelet cooking on the stove.
I have been participating in a 20-day vegan cleanse, so no eggs or cheese for me. Also, as part of the cleanse, no dairy products, caffeine, added sugar, alcohol, or wheat. Although that sounds like an exhaustive list of forbidden foods, there are still plenty of foods that are OK to enjoy. Here is my old-fashioned oatmeal cooking on the stove.
Toppings for my oatmeal included strawberries, blueberries, and a brazil nut, which I smashed into pieces with a heavy meat tenderizer type of hammer.
My mom's breakfast is served.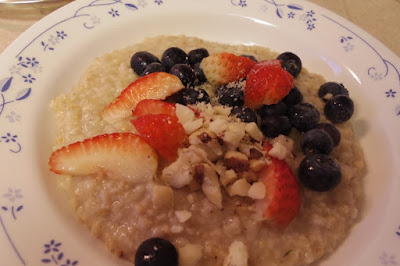 My breakfast is served. It is colorful and delicious.
After breakfast, I started walking to church. Here is a little ash tree that I saw that is trying to grow in my garden. It is cute but in the wrong place and will have to be removed.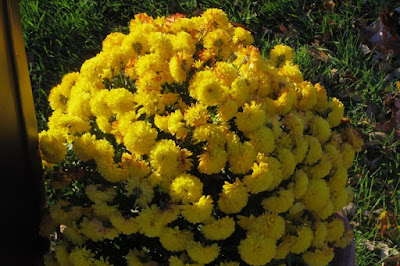 Mum still alive near someone's mailbox.
Sometimes, Kelly and Tim, who live in my neighborhood, offer me a ride to church. On Sundays, they have breakfast with Tim's parents. During the summer, however, Tim and his dad enjoy a game of golf on Sunday mornings.
Here I am at church! It doesn't look much like a church at this spot, does it? It looks more like a pre-school! Well, actually, there is a pre-school that rents space in the church basement. From September to May, the pre-school keeps the church basement nicely decorated with seasonal stuff and kids' artworks.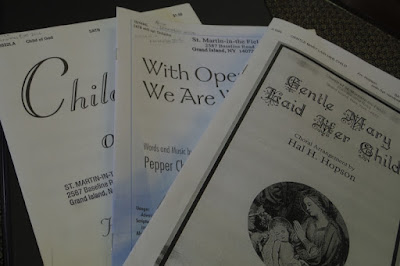 The first activity at church was choir practice. We have just started practicing music for Advent and Christmas Eve. It is far too soon to celebrate Christmas but an early start to practicing Christmas music is essential.
The bass section practices a solo passage for basses and tenors. They practiced this passage at the end of the rehearsal. All of the sopranos and altos left to enjoy a few minutes of socializing before church. This soprano stayed to listen to the men sing and to take pictures.
Choir director Paula King guides the tenors through a few challenging passages.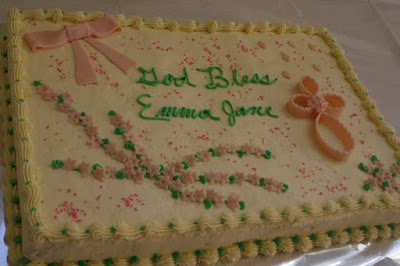 This beautiful cake was made in honor of a baby who was baptized during the church service.
It was also "silent angel appreciation day," so people brought soup and sandwiches were made. But, alas, there were no vegan soups so I went home immediately after church.
Today was the Feast of Saint Martin of Tours, the patron saint of the church. Saint Martin was the bishop of Tours in the fourth century A.D. He was born in what is now Szombathely, Hungary, grew up in Pavia, Italy, and, as an adult, lived in France. At the age of 15, he was required to join the cavalry. He refused to fight, saying that fighting violated his Christian ethics. He was put in jail and he actually offered to go to battle unarmed in front of the troops but, fortunately, the enemy sued for peace and the battle never occurred. He then was discharged from the military. He became a monk and a hermit and, later, a bishop.

One of the things that he is well-known for is cutting his cloak in half with his sword and handing half of the cloak to a cold beggar who had no cloak. This happened when he was still in the cavalry. He later had a vision, in which he saw Jesus, who was wearing the half cloak that he had given away.

Saint Martin's shrine in France has become a famous stopping point for pilgrims on the road to Santiago de Compostelo in Spain.
Father Earle King baptizes a baby.
Father Earle has been called a "baby whisperer." He holds the babies that he baptizes and they always look happy. When a baby in the congregation starts fussing, Father Earle takes the baby and carries it around. The baby calms right down. It is quite something to see.
Two men put together a photo display of veterans, who were either members of Saint Martin-in-the-Fields church or relatives of church members.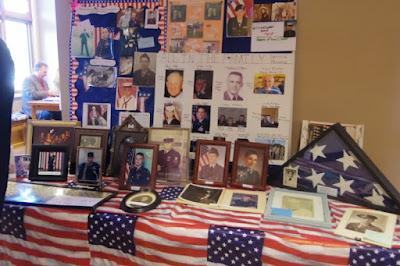 The man in the small picture in the center of the photograph is my dad. He was a World War II veteran. He served in the U.S. Army, in signal intelligence.
Later in the day, I went to my sister's house for dinner. My nephew, Devin, had come from California to go to business meetings in Toronto. He spent Sunday here in Grand Island and we had a family dinner. And, yes, I brought my own vegan food! Above is Vivian's cat, Angel. She is now seventeen years old. She loves attention and she is very vocal about expressing her desire for more attention.
These are the rocks that I painted this past summer. I gave them to Vivian for her birthday. This is how she displayed the rocks.
This is my nephew, Devin. It was great to see him, albeit for a short time. He and his family will back to visit during Christmas week!

My challenge to my blogging friends: I challenge you to do the same thing. Document a day with photography, and share the stories in your blog. I look forward to seeing your world.